Applicability
Firmware version: Any
Model: Any model supports Linkus.
Problem Symptom:
In the beginning, the Linkus works fine. At a random time, the Linkus appears the error: "Registering ..." which is mentioned in this article: Common Causes for Linkus Registering Error
Commonly, it happens when the Linkus connects via mobile data network.
When you login to the PBX, you can find an attack prompt. And you remove the IP address in the Blocklist menu. The Linkus client starts to work again, but soon it is blocklisted again.
Solution
It is a kind of issue that the network retransmits the SIP packets too fast.
1. Try to add whitelist for the IP addresses which are frequently blocklisted in the PBX firewall.
2. For solution 1, sometimes the IP addresses are too many which is hard to manage. Then you can try to decrease the packet rate to a lower value in the IP Auto Defense menu. (Currently, CloudPBX is not available.)
Like: 40/2s -> 80/10s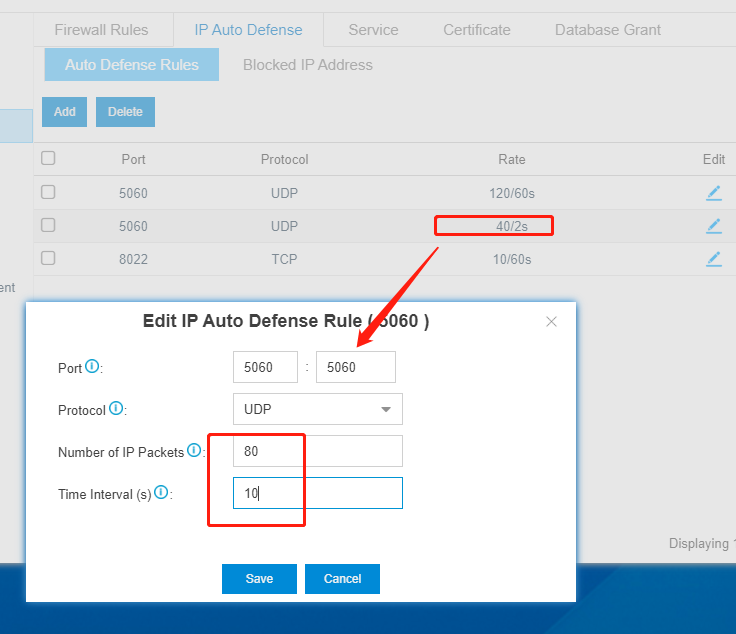 If the issue persists, try to get the logs and post it to our support.
On the other hand, we recommend the LCS solution which will not have this annoying issue. Try to enable it followed by: https://help.yeastar.com/en/s-series/topic/set_up_linkus_server_with_LCS.html
See more details about the LCS advantage: https://support.yeastar.com/hc/en-us/articles/360012608753--Advantages-on-LCS
1. System Log
Here is the guide about how to get the System Log:
https://support.yeastar.com/hc/en-us/articles/360007653294-How-to-Get-System-Log
Tick Debug option, and tick the SIP debug option in the list.
2. Linkus Debug log
How to get Linkus Debug log?
Please refer to this link: https://support.yeastar.com/hc/en-us/articles/360012270934-How-to-Get-Linkus-Debug-Logs
Also, tell me the time of issue happens and calling, called party information. So that we can analyze the log sufficiently.