1. Introduction
This article will guide how to connect Yeastar TG gateway to Yeastar PBX in FQDN mode. It applys for Yeastar TA/TB/TE and other brand IPPBX/Gateways as well. This integration with FQDN mode allows you to connect both devices in different sites without having to open ports in firewall, which will significantly enhance system security and completely free your hands.
This article takes Yeastar P570 model IPPBX and Yeastar v3-based TG gateway to demonstrate the integration. After successful connection with gateway you would achieve following call request.
Make outbound calls from Yeastar IPPBX via GSM trunk of TG gateway.
Receive calls from GSM trunk of TG gateway at Yeastar IPPBX.
2. Prerequisites
P-Series IPPBX (Enterprise Plan or

Ultimate Plan)

S-Series IPPBX (LCS Pro)
Yeastar Gateways (Particular firmware requested to integrate with P-Series PBX, check here for details)
3. Steps
1) Create an Account Trunk on P570 IPPBX.

2) Configure Yeastar FQDN on P570 IPPBX and allow account trunk to be registered on remote site.


3) Register account trunk on gateway with FQDN domain.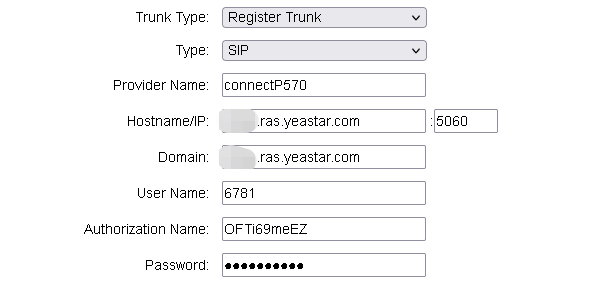 4) Check SIP trunk status in PBX and gateway, assuring both status are available.


5) After SIP trunk established well, follow this article in the link from part 4.1 to set up proper rules in PBX and gateway to achieve your call request.