Applicability
Firmware version: Any
Model: TG Gateway V2
Problem Description
S100->SIP Trunk->TG800 V2->GSM port1->External number, the external call is failed.
IP Phone/Softphone->SIP Account->TG800 V2->GSM port1->External number, it's working.
Analysis
1. Get the PCAP-Dump-Capture and analyze the SIP workflow between TG800 and S100.
TG800 returns a "603 Decline" error instead of ACK message after receiving the "183 Session Progress" from S100.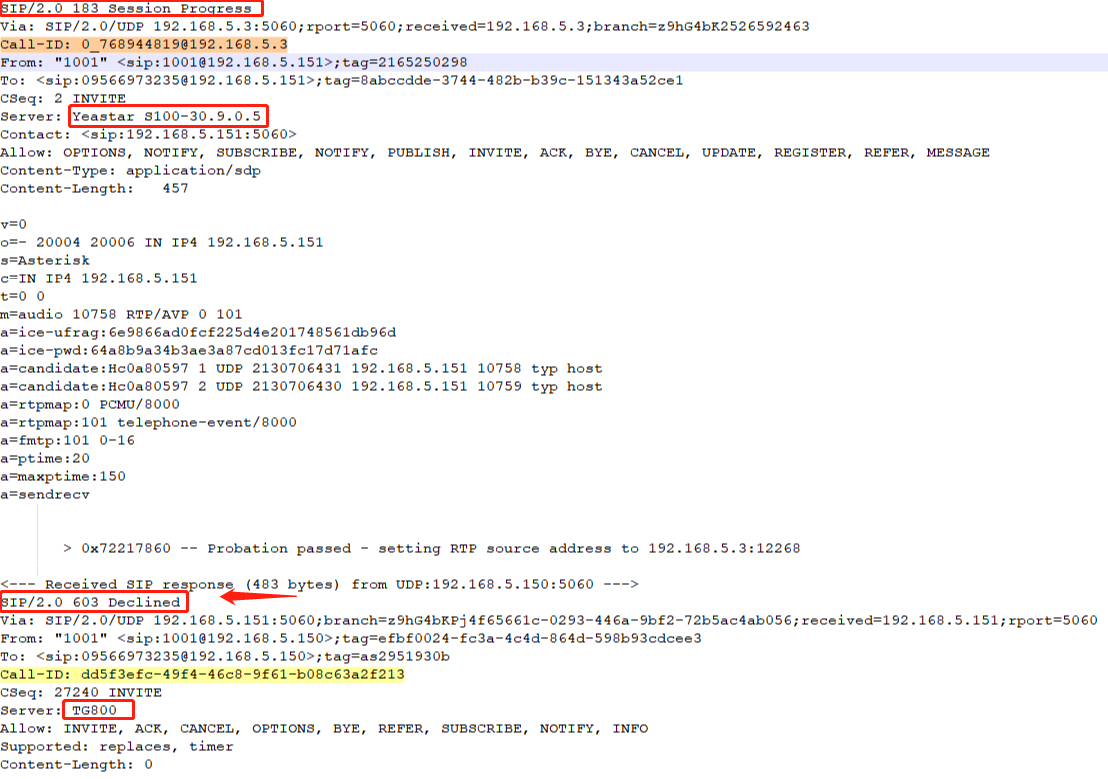 2. Get the Asterisk-CLI-logs from TG800 and analyze the logs:
As per the CLI log, the following lines where marked green which all have wrong format of caller number. The called number is appended with the #1001. Which is the caller ID number of the extension of PBX.

Below is the correct workflow script for reference.

Solution
1. Prepare to custom the extensions.conf file through the SSH-Interface of TG V2 gateway.
2. Locate the line where shows the trunk-xxxx-OUTSUNMBER=1 and copy the dialplan and content of context of [globals] in /persistent/extensions.conf. XXX is the GSM trunk name. As long as the line *_OUTSUNUMBER=1, you would need copy.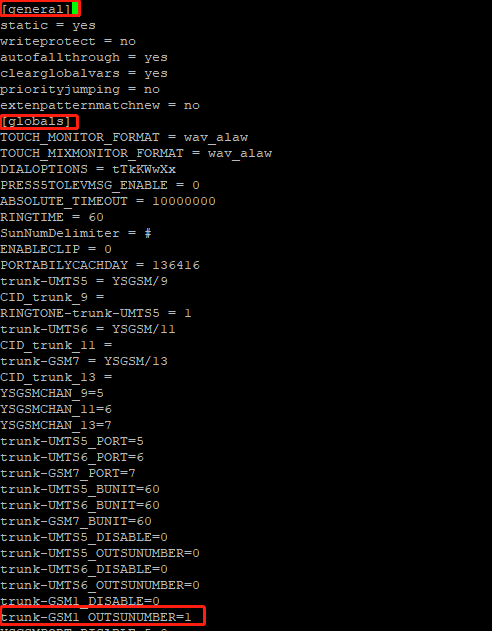 5. Paste the dialplan to /persistent/customcfg/extensions_custom.conf, and then, change the value from 1 to 0 as below.
1) Enter command vi /persistent/customcfg/extensions_custom.conf .
2) Enter the keyboard i.
3) Copy and paste the content of context into extensions_custom.conf file.
In this format:
[globals]




trunk-XXX1_OUTSUNUMBER=0




trunk-XXX2_OUTSUNUMBER=0




...
For example:

4) Enter ESC and input :wq
5) mypbx
6) asterisk -vvvvvvvvvvvvvvvr
7) dialplan reload