This issue had been increased after 3CX-v15 released particularly.
Most of the cases were caused by the lack of Call ID number(From user) in From header from 3CX. In this article, we would help you resolve this issue.
Verify the Issue
Check if you have the same phenomenon or error in the log:
In Yeastar gateways Asterisk CLI log or debug log, you could find the similar log like: WARNING[5691] pbx.c: Channel 'SIP/trunk-sps-3CX-00000010' sent into invalid extension 's' in context 'default', but no invalid handler
And in the SIP tcpdump capture or 3CX console you would see the Yeastar gateway returns response code

603 Declined

.
Solution
 If you could verify you have the same issue, proceed to get it fixed.
Go to the 3CX management console, and change the 'From: User Part'  in Outbound Parameters of SIP trunk that interconnects to Yeastar gateways. The recommended option is: "OutboundCallerid" Outbound caller Id taken from Extension settings in managament conosle.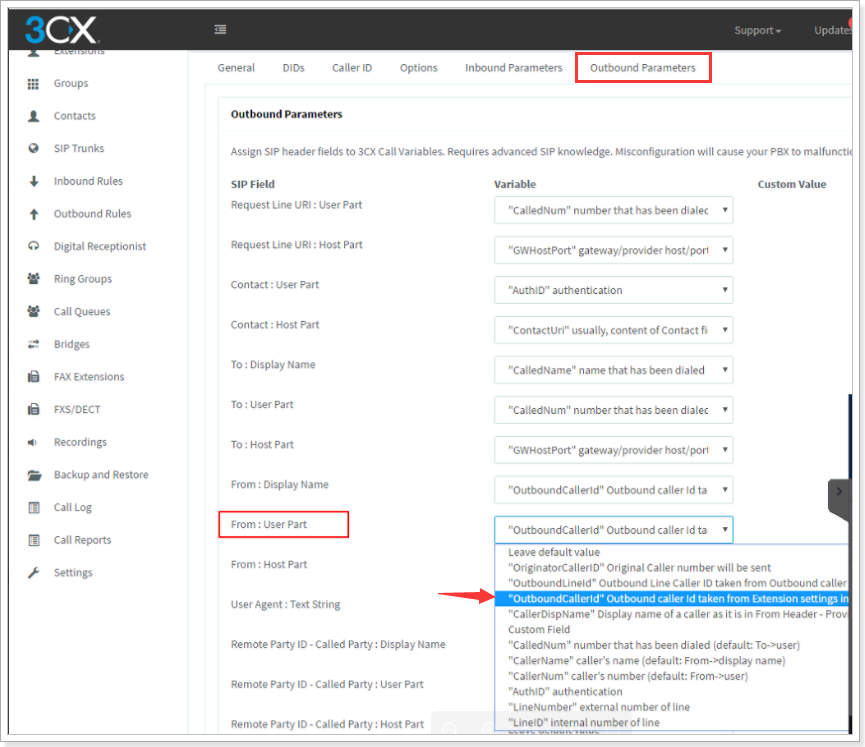 If issue persists, please go the Extension settings and fill a proper Outbound Caller ID for the 3CX extensions.
Troubleshooting
If issue is still not resolved, please help us get 2 logs when you replicate the issue: Asterisk CLI log , PCAP dump. And screen capture: