Summary
There are two modes which can be used to connect Yeastar S-Series to TA FXS gateway. One is using provisioning to configure TA FXS Gateway. The other one is to configure TA FXS gateway manually. Please refer below the guide: How-to-Connect-S-series-IPPBX-to-TA-FXS-Gateway
Sincerely we recommend you could use S-Series IPPBX to provision TA FXS gateway, as it is much more convenient and save time.
Introduction
Yeastar S-Series is with a provisioning feature for Yeastar TA Gateway configuration.
TA Gateway in the same LAN with Yeastar S-Series can receive configuration file from Yeastar S-Series, that means you don't need to configure TA via TA webpage, instead, you can do it on Yeastar S-Series webpage.
Note:
1. This gateway provisioning only works for Yeastar TA FXS gateways including TA100/200/400/800/1600/2400/3200
2. When provisioning, the Yeastar TA gateway should be in the same subnet with Yeastar S-Series IPPBX. (ARP should be allowed in the network if you need the gateway to be recognized)
Provisioning
Here are two methods to find TA devices, one is add it manually, the other one is to find it from device list. The former one need input TA MAC address manually while the latter take advantage of TA recognition feature in S-Series IPPBX.
1. Add Yeastar TA gateway device manually
Path: menu→Auto Provisioning, Click "Add"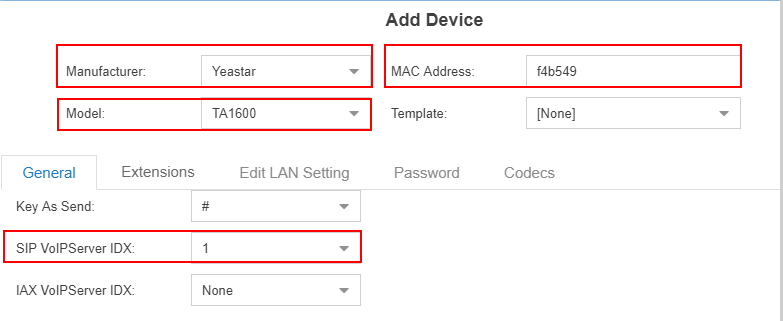 2. Add it from Device list
TA devices in the same subnet with S-Series IPPBX can be scanned, displaying on this list. Like the following, click 

 to configure.
3. Configure Yeastar TA
1) Set the mode of TA network, DHCP, Static IP and PPPOE. Here we configure Static IP as the example.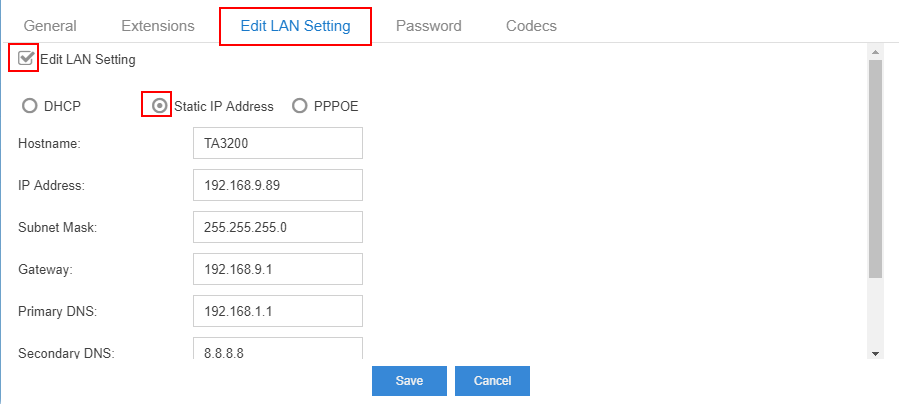 2) Choose the port in TA gateway you want to configure. For example, we want to configure port 1 with  extension 1000 of this S-Series IPPBX.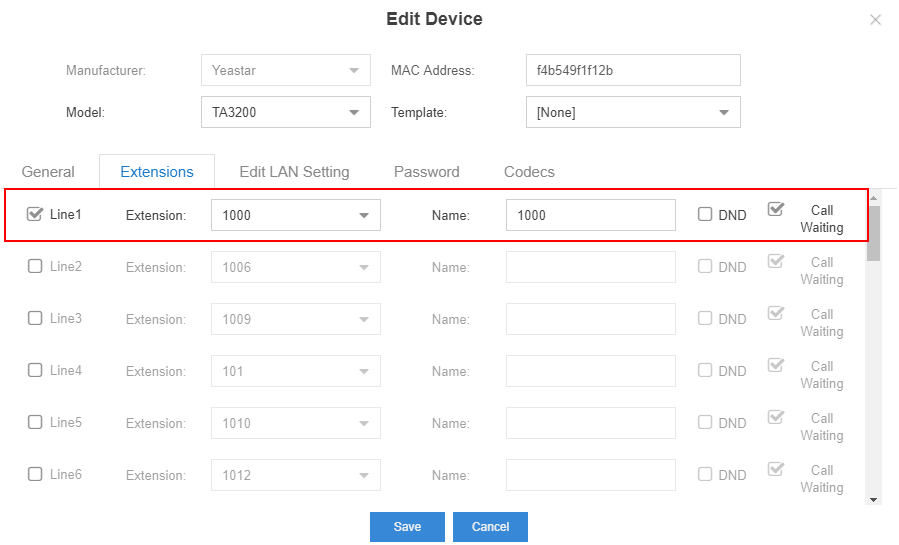 3) We need to reboot this TA device to perform the provisioning processs. Choose "Save and reboot the device when it is free" and click "Save". TA gateway will reboot automatically once there is no active calls. Or you could force it to reboot as required.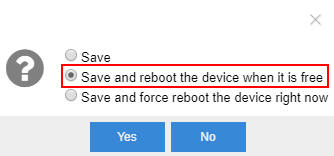 4) After reboot, you can find that SIP server information of S-Series IPPBX had been added in VOIP Server list. 

5) Check the status of this FXS port, "OK" means 1000 is registered to S-Series IPPBX sucessfully.