The configuration file is located in /etc/asterisk/digital-channel.conf
Below is a sample config file of digital-channel.conf:
signalling=mfcr2
context=DID_trunk_E1Trunk1
mfcr2_variant=itu
mfcr2_get_ani_first=no
mfcr2_max_ani=16
mfcr2_max_dnis=16
mfcr2_category=national_subscriber
mfcr2_mfback_timeout=-1
mfcr2_metering_pulse_timeout=-1
mfcr2_forced_release=no
mfcr2_allow_collect_calls=no
mfcr2_double_answer=no
mfcr2_immediate_accept=no
mfcr2_charge_calls=yes
mfcr2_logdir=span
mfcr2_logging=nothing
mfcr2_call_files=no
pri_internationalprefix=
pri_nationalprefix=
pri_localprefix=
pri_privateprefix=
pri_unknownprefix=
outchannel=
group=11
channel=1-15,17-31
Parameters details
Web Configuration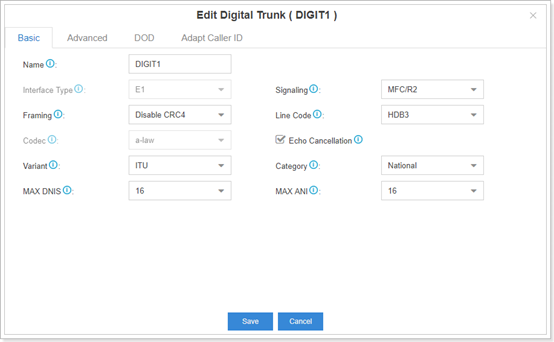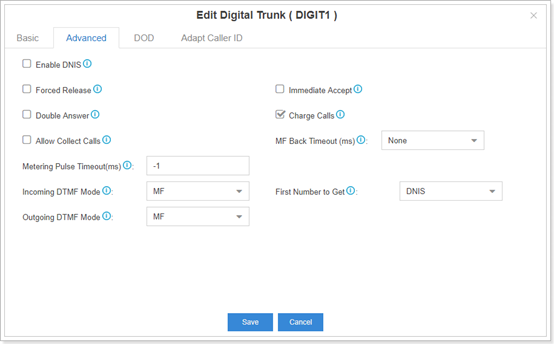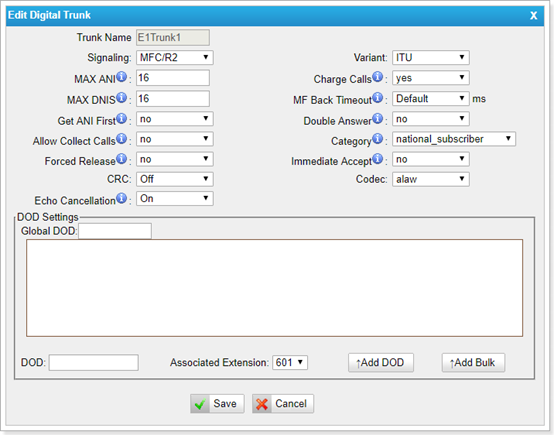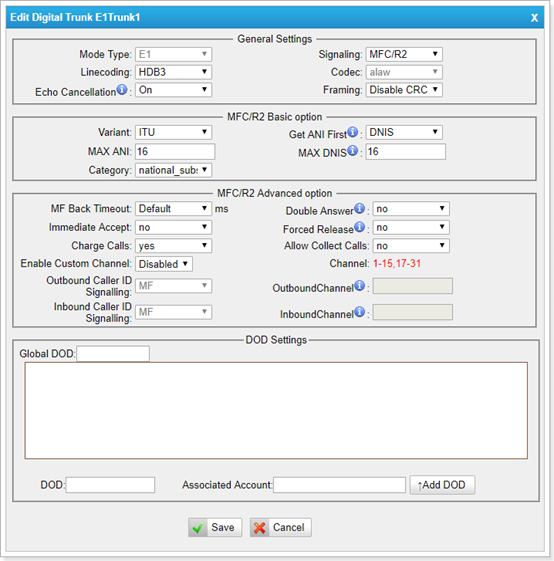 Configuration Instruction
Web Configuration

Parameter in digital-channels.conf

Instruction

Signalilng

signalling

It should be mfcr2.

Variant

mfcr2_variant

It depends on your country and information offered by carrier.

MAX ANI

mfcr2_max_ani

Caller ID number digits length of incoming call, default is safe.

MAX DNIS

mfcr2_max_dnis

Called number digits length of incoming, please follow the information

Category

mfcr2_category

Usually national_subscriber works just fine.

Forced Release

mfcr2_forced_release=no

Brazil use a special signal to force the release of the line (hangup) from the backward perspective.

Immediate Accept

mfcr2_immediate_accept

This feature allows to skip the use of Group B/II signals and go directly to the accepted state for incoming calls.

Double Calls

mfcr2_double_answer

Similar as Allow Collect Calls

Charge Callls

mfcr2_charge_calls

Whether or not report to the other end 'accept call with charge'.  This setting has no effect with most carriers and is usually is safe. 

Allow Collect Calls

mfcr2_allow_collect_calls

Brazil special calling party category for collect calls (llamadas por cobrar).

MF Back Tomeout

mfcr2_mfback_timeout=-1

MFC/R2 value in milliseconds for the MF timeout.

Any negative value means 'default', smaller values than 500ms are not recommended and can cause malfunctioning.

If you experience protocol error due to MF timeout try incrementing this value in 500ms steps

Metering Pulse Mode

mfcr2_metering_pulse_timeout

Metering pulses are sent by some carriers for some R2 variants during a call presumably for billing purposes to indicate costs, however this pulses use the same signal that is used to indicate call hangup.

First Number to Get / Get ANI First

mfcr2_get_ani_first

Determine whether or not to get the ANI before getting DNIS.  Some carriers require ANI first some others do not care.

Incoming DTMF mode / Incoming Caller ID Signaling

channel=1-15

mfcr2_dtmf_detection=no

If depends the Caller ID signaling carrier uses.

Outgoing DTMF mode / Outgoing Caller ID Signaling

group=11

channel=17-31

mfcr2_dtmf_dialing=no

If depends the Caller ID signaling carrier uses.