1. Introduction
The guide provides step-by-step configuration instructions of how to connect Grandstream UCM6102 and S-Series PBX. 
In this guide, we will take Yeastar S100 as an example, the same configuration can be applied on Yeastar S-Series PBX.
With the guide step by step, you could achieve:
1. Make call from UCM side to the IVR of S-Series PBX or other destinations.
2. Make outgoing call from UCM side via trunks of S-Series PBX.
3. Receive call from UCM at S-Series PBX side.
Firmware version:
S100: 30.10.0.28
Grandstream UCM6102: 1.0.18.12
Description:
IP address of S100: 192.168.9.208
IP address of Grandstream UCM1602: 192.168.7.214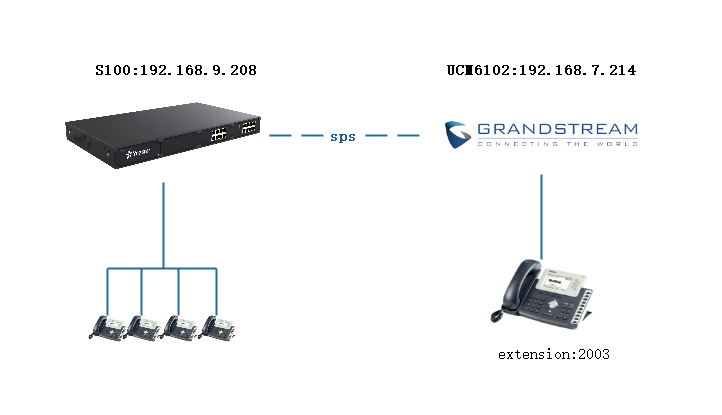 2. Configuration
Build Interconnection
2.1 Create a VoIP Trunk on S100
Path: Gateway> VoIP Settings> VoIP trunk> Add VoIP Trunk.
Choose "Peer Trunk" mode, and fill Hostname/IP with IP address of UCM6102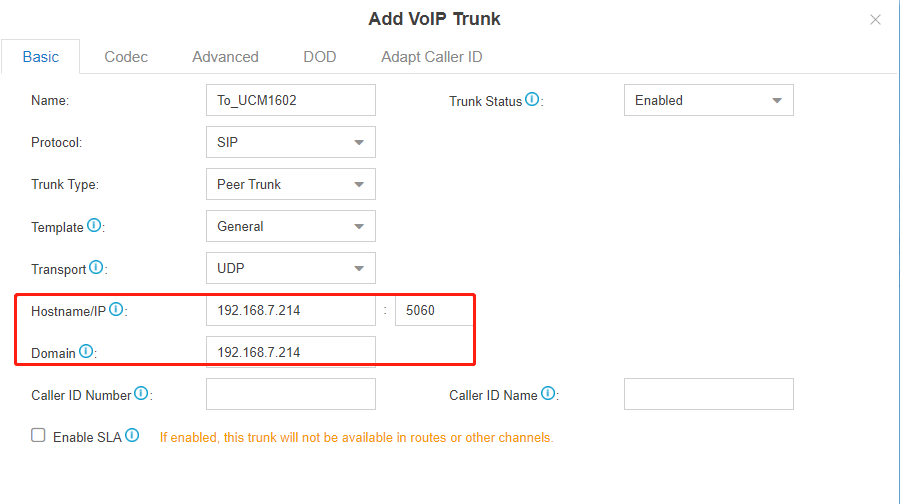 Trunk Type: Peer Trunk
Template: General
Transport: UDP
Hostname/IP: The IP of the UCM6102, 192.168.7.214
Domain: Generally, the field is same with Hostname/IP.
2.2 Create a VoIP Trunk on UCM6102 to S100
Path: Extension/Trunk> VoIP Trunks> Add SIP Trunk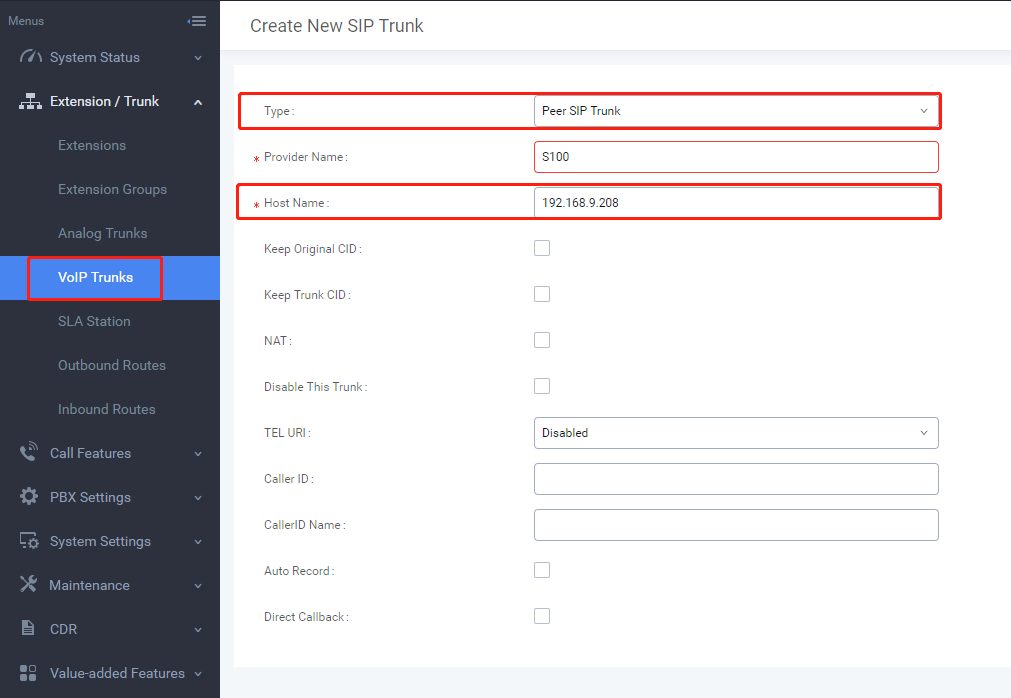 Type: Peer SIP trunk
Hostname: IP address of the S100, 192.168.9.208
You could check the registration status on S100 PBX monitor.

2.3 Create an extension in UCM6102
Path:  Extensions/Trunk> Extensions> Add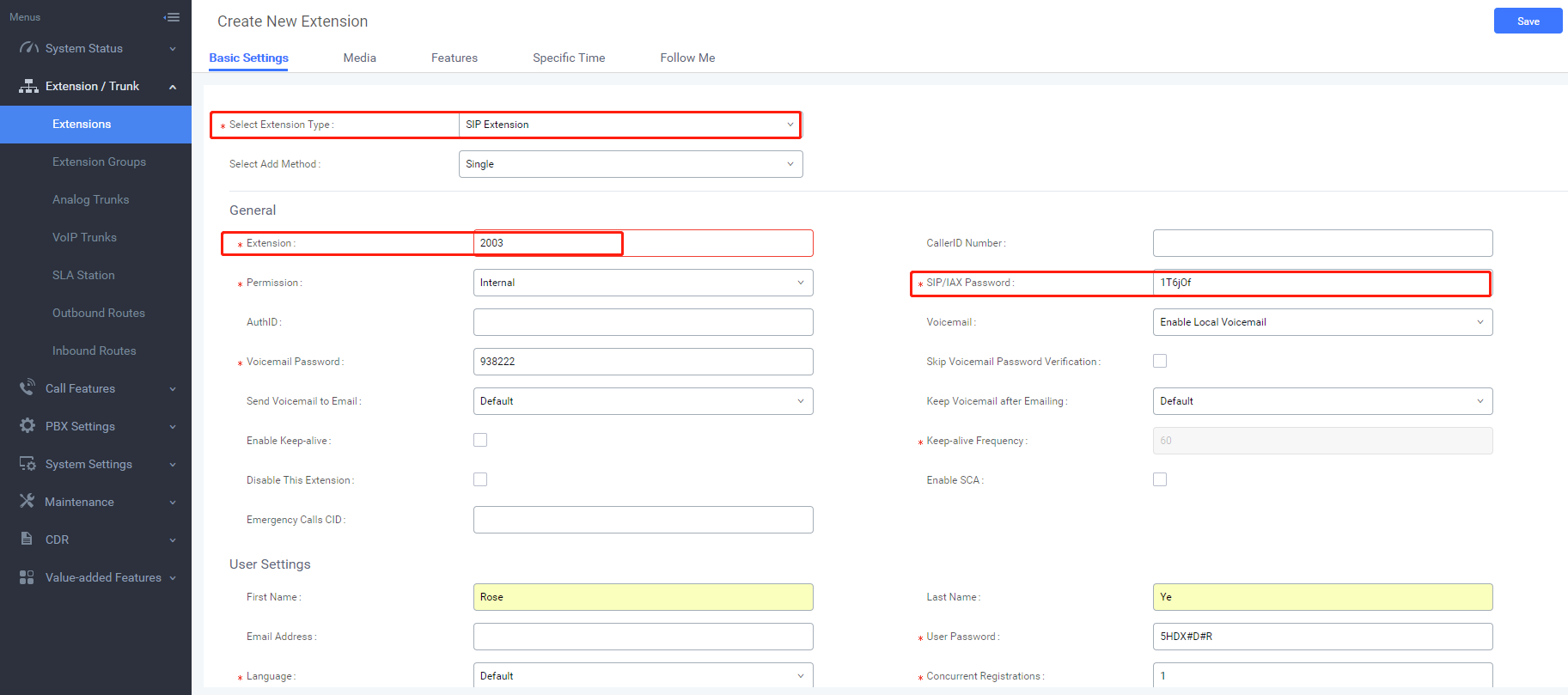 Fill the extension number and password on the IP Phone you use: 

Create Routing Rules for call from S100 to UCM.
3. Create Outbound Route on S100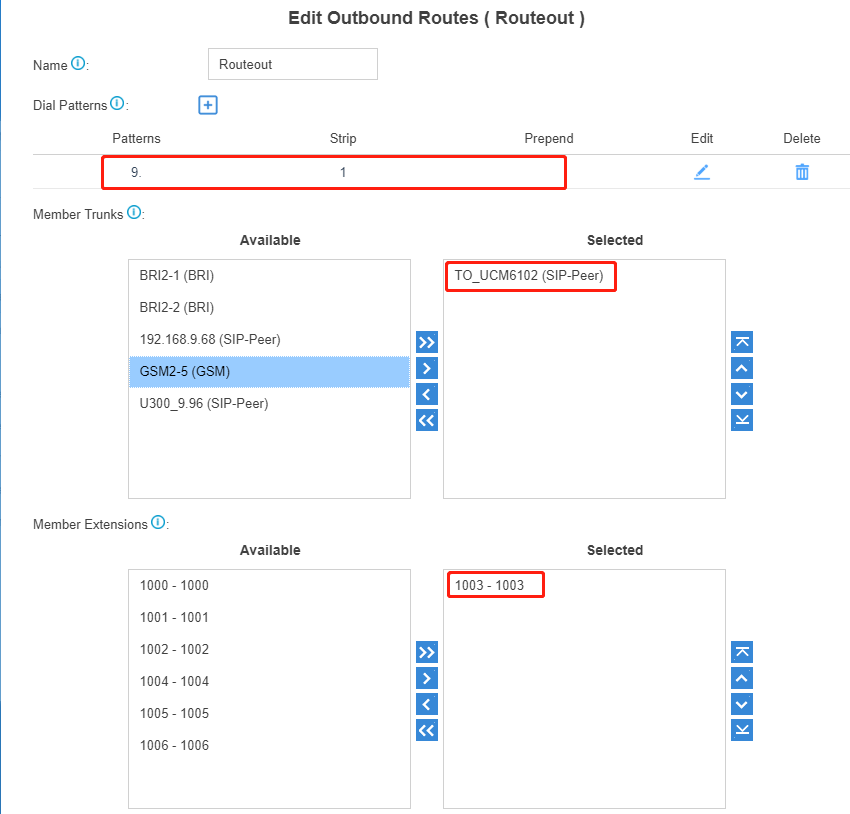 Pattern: 9
Strip: 1
Member Trunks: TO_UCM6102 (SIP-PEER)
Member Extensions: 1003, select extensions which you allow to call out via the SIP trunk
3.1 Create an Inbound Route on UCM6102

Pattern: _X.
Default Destination: Extension/2003
Create Routing Rules for call from UCM to S100.

 
4. ​Create Inbound Route on S100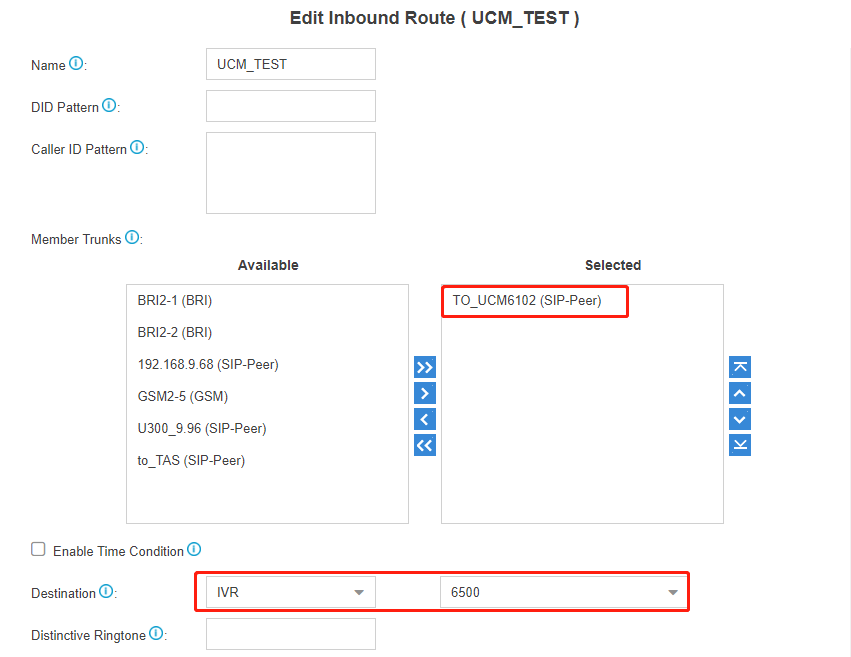 Member Trunks: To_UCM6102(SIP-Peer)
Destination: IVR-6500
If you want to dial an extension range of S100, you could try to follow the guide: DID insturction
If you want to make external call via the trunks of S100, you could need to configure the destination as in outbound route.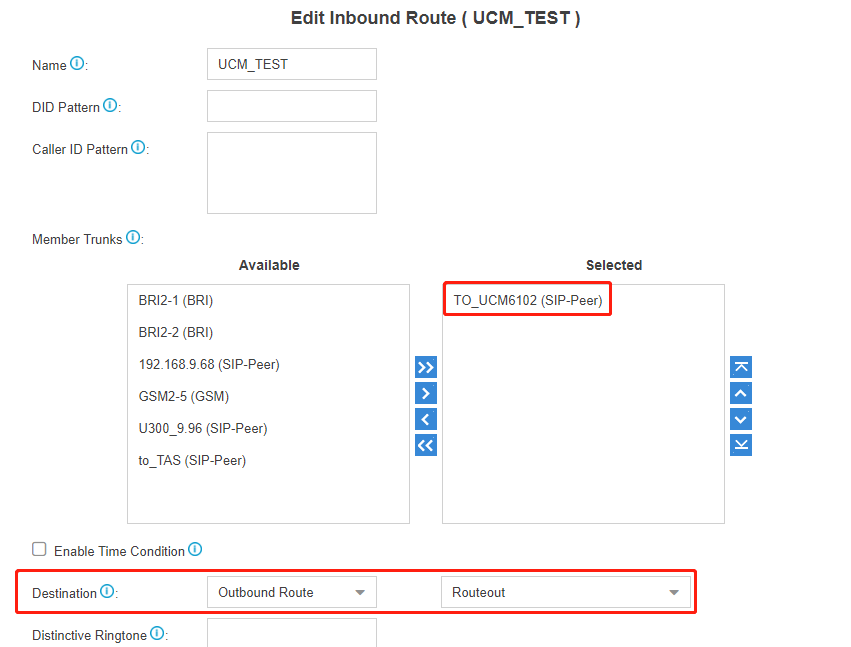 Member Trunks: To_UCM6102(SIP-Peer)
Destination: Outbound Route-Routeout
*Note: The outbound route should be set on S-series in advance. Any doubt on outbound route setting, please view the following instruction.
https://help.yeastar.com/en/s-series/topic/add_outbound_route.html
4.1 Create outbound route on UCM6102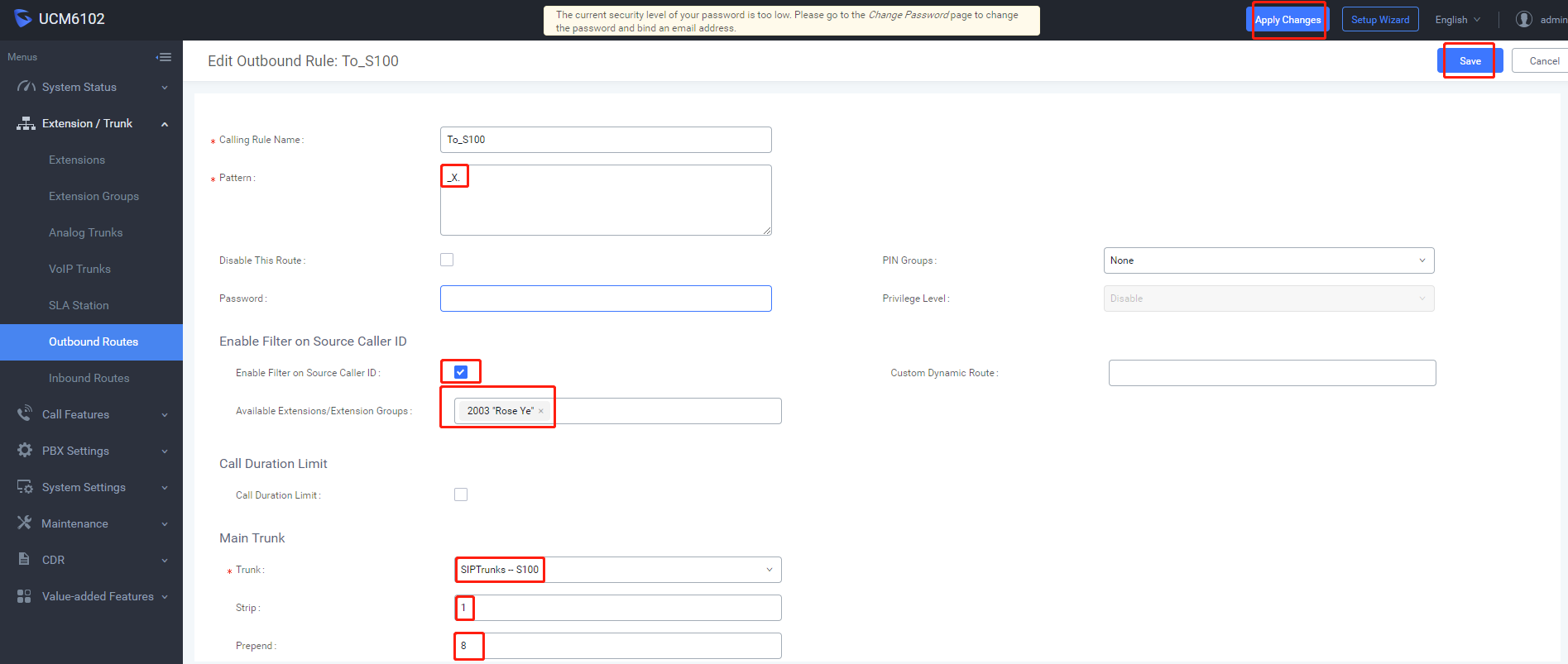 Pattern: _X.
Enable Filter on Source Caller ID
Available Extensions/Extension Groups: 2003
Trunk: SIPTrunks-S100
Strip: 1
Prepend: 8 (If you wanna call 6500, you need dial 86500.)
Note:
1) Please save and apply changes on the interface of UCM6102. Otherwise all the configuration will not take effect.
2) If you don't need set time condition for inbound/outbound route, just keep the default setting. Otherwise, you may encounter call failure issue.