Symptom
IP Phone or Yeastar Gateway doesn't reboot normally after you click YES in the following window.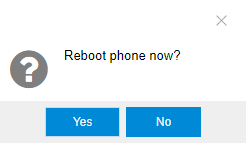 Checklist
You might already know the mechanism why the IP phone would reboot automatically.
1. Check if your phone model supports Auto Reboot. Yealink, Grandstream, Fanvil etc. supports to reboot automatically. Some other models like Cisco doesn't support, you need to reboot manually.
To check which model support auto reboot. Please check with our support.
2.1 Try to capture PCAP capture on PBX side and IP phone side or Yeastar TA FXS gateway.
For PBX Side & Yeastar TA FXS gateway side, you could follow the guide: PCAP dump capture
For IP Phone side, you could learn to get the PCAP capture on their knowledgge base.
2.2 Analyze the SIP flow in the PCAP capture. 

*Note: Make sure PBX has sent "NOTIFY" message for reboot to IP phone/Yeastar TA S gateway as the data flow in this article Auto Provision Introduction 
And check PCAP dump captured by IP phone to sure if phone get the "Notify" from PBX.
3. If the PBX sent the Notify message, but IP phone doesn't receive, please check your local network or firewall settings to see if it blocks the packet from PBX SIP source port (default is 5060). Or try to check the firewall settings on Yeastar TA FXS gateway.
4. Try to reset your IP phone or Yeastar TA FXS gateway.