Introduction 
This guide introduces sip trunk registration with Yeastar VoIP PBX.
Understanding sip trunk registration

Trouble shoot registration issues
SIP Trunk Registration
SIP trunk is generally established between two IP-PBX or between IP-PBX and ITSP. SIP trunk is responsible for the audio transport. Then extensions on PBX could make external call via the sip trunk.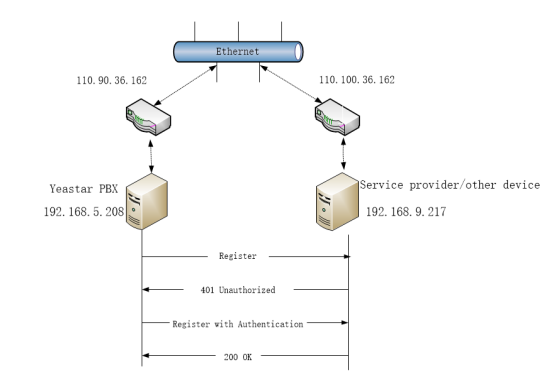 Here is an example of sip registration trunk package:
Via:SIP/2.0/UDP192.168.9.208:5060;rport=5060;received=192.168.9.208;branch=z9hG4bKPjf3061cb7-5d41-49bd-836e-cac41b24ffc0
From: <sip:6000@192.168.9.121>;tag=4d1642e9-cf3a-42c4-968d-3473edc5bfb0
To: <sip:6000@192.168.9.121>
Call-ID: 136a0dea-3b49-443f-842b-307f63ad800a
CSeq: 44291 REGISTER
Contact: <sip:6000@192.168.9.208:5060>
Expires: 1800
Allow: OPTIONS, NOTIFY, SUBSCRIBE, NOTIFY, PUBLISH, INVITE, ACK, BYE, CANCEL, UPDATE, PRACK, REGISTER, REFER, MESSAGE
Max-Forwards: 70
User-Agent: Yeastar S100-30.1.0.9
| | |
| --- | --- |
| From field | Get the username and IP address of registration source |
| To field | Get the username and IP address of registration destination |
| Contact | Contains the URI at which the UA would like to receive request. |
| User-Agent | The authentication name of the endpoint. |
| Expires | An integral number of seconds, measured from the receipt of the request. |