Why Need Upgrade the OpenVPN Version
In Yeastar U-Series and VoIP Gateways the OpenVPN version is 2.0.5. If the OpenVPN sever use TUN mode / Subnet Topology, then Yeastar client side can't connect it unless upgrade the version to the latest one 2.4.3.
Introduction of OpenVPN Topology
There are three topology of OpenVPN TUN mode: Subnet, NET30 and P2P.
Subnet: 
The current recommended topology for modern servers. Note that this is not the current default. Addressing is done by IP & netmask.
NET30:
This is the old topology for support with Windows clients running 2.0.9 or older clients. This is the default as of OpenVPN 2.3, but not recommended for current use. Each client is allocated a virtual /30, taking 4 IPs per client, plus 4 for the server.
P2P:
This topology uses Point-to-Point networking. This is not compatible with Windows clients, though use with non-Windows allows use of the entire subnet (no "lost" IPs.)
How to 

Upgrade the OpenVPN Version
STEP 1. Follow this guide to login the device via FTP: https://support.yeastar.com/hc/en-us/articles/217380628-How-to-Access-MyPBX-FTP-Folder.
STEP 2. Copy these three files: openvpn, libpam.tar, add.sh to the path /persistent as the below figure shown.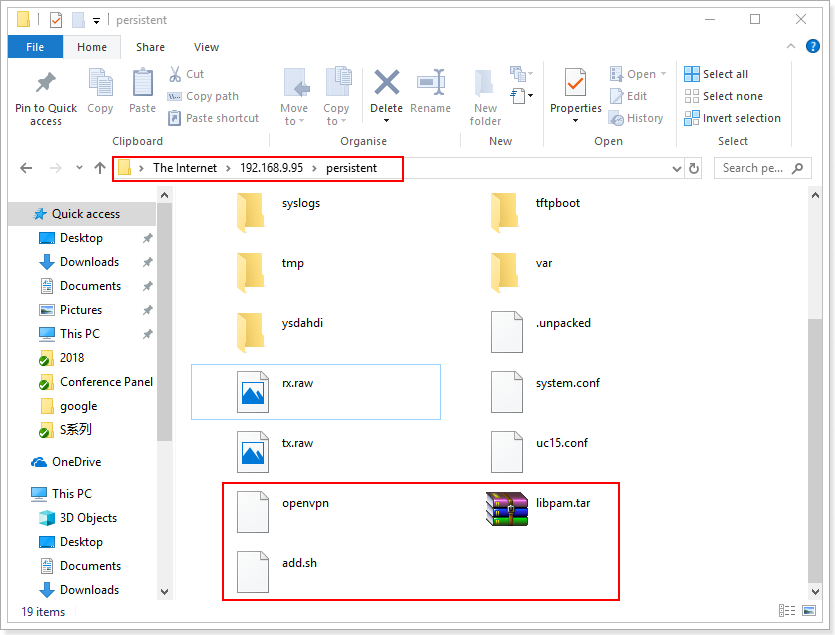 STEP 3. Reboot the device to make it effect.
For S-Series, please download the attachment openvpn246.tar, and upload to the App Center to upgrade the OpenVPN version.