Introduction
Yeastar S-Series PBX supports remote extensions that help you to use your extension when you are at home or on a business trip. With remote extensions, you can work wherever you are and still be seamlessly integrated with the head office.
In this guide, we introduce how to register a remote extension using Yealink IP Phone. As the following figure shows, Yeastar S-Series PBX and users in different locations are in different network with their own private IP addresses.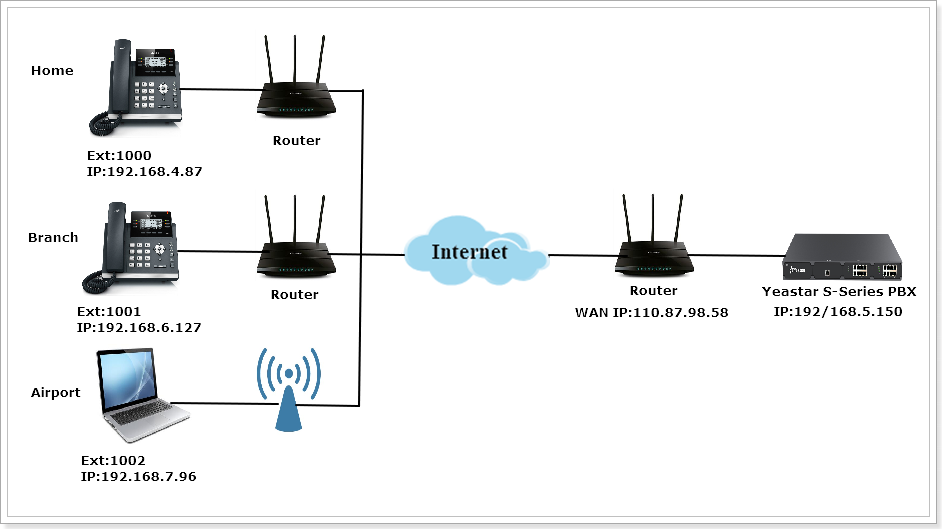 Configuring Remote Extensions  
Step 1. Configure port forwarding on the router.
Example: The router's public IP is 110.87.98.58.
Since Yeastar S-Series PBX is behind the router, register to Yeastar S-Series PBX remotely, you need to forward the SIP port on the router which is connected to Yeastar S-Series PBX, so that all the packets received on the router WAN port (110.87.98.58:5060) will be forwarded to the Yeastar S-Series PBX (192.168.5.150:5060). Below is the setting page in a Linksys router.
Note: we must map UDP port 5060 and UDP port 10000-12000.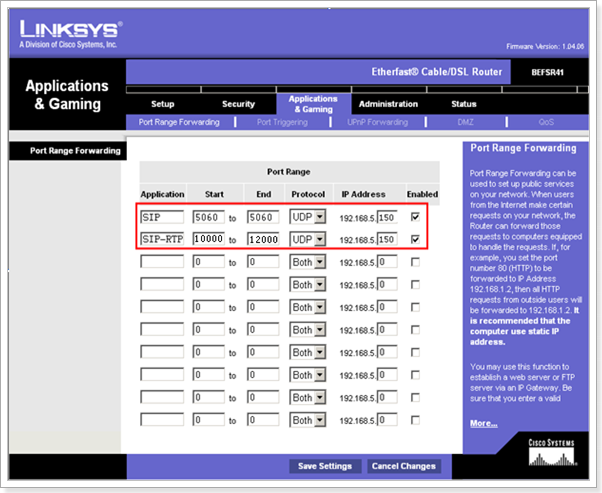 Step 2. Configure NAT settings in Yeastar S-Series PBX.
Login Yeastar S-Series PBX web interface and go to "Setting > General > SIP > NAT", configure the NAT settings according to the directions below.

NAT Type: choose "External IP Address", you can choose "External Host" or "STUN" if you don't have a static public IP address.
External IP Address: fill in the router's public IP address
Local Network Address: fill in your local network segment and subnet mask (i.e.192.168.5.0/255.255.255.0)
NAT mode: Yes
Step 3. Setup up an extension in Yeastar S-Series PBX.  (i.e. 1000).

NAT: Yes
Register Remotely: Yes
Step 4: Register the extension 1000 on the IP Phone which is setup in a branch office.
Note: You have to set use the public IP address or host name of the router to register the extension.