Introduction
On Yeastar S-Series PBX system, you can easily setup conference calls. You can create a conference on the PBX, and dial the conference number directly on your phone.
Creating a Conference
Log in S-Series PBX web interface, go to "Settings > PBX > Call Features > Conference", click "Add" to create a new conference.





Specify the conference "Number". The PBX extension users should dial this number to setup and connect to the conference.





Set a "Participant Password", users are required to enter the password when entering the conference. Leave this field blank, the users can enter the conference directly.





Choose the conference moderators. The moderator could manage the conference on his/her phone.





If the other participants want to manage the conference, you can set "Moderator Password". The participants could enter the conference by the password, and act as a moderator.





Click "Save" and "Apply".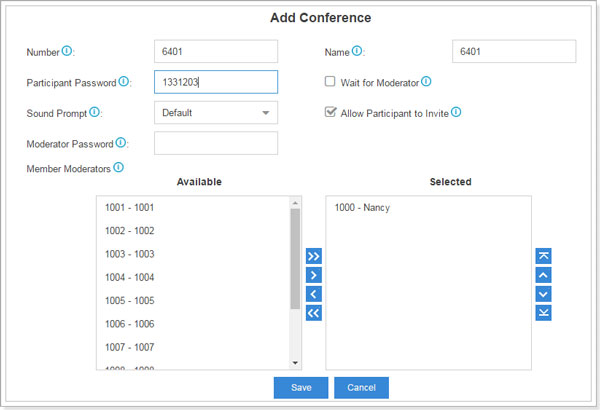 Entering a Conference
For Extension Users
Extension user in S-Series PBX could dial the conference number to enter the conference. Follow the prompt to enter a password if the "Participant Password" is set.
After entering the conference, you can dial "#", then dial the number you wish to invite.
For External Users
When you are in a conference, you can dial "#", then dial an external number to invite the person.

  Note
     To invite external users, the dialed external number should match outbound route dial pattern.
For example, the outbound dial pattern is set as "9.", strip 1 digit. To invite a person with number 17283728282, you should dial # on your phone, then dial 917283728282 to invite the person.
Managing a Conference
During a conference call, the users could manage the conference by pressing "*" key on their phones to access conference IVR menu.