The VoIP Paging and Intercom features allow you to make an announcement to a group of extensions. The called parties do not need to pick up the handset as the audio will be played via the phone speakers. This article explains how to set up and use paging and intercom feature on Yeastar S-Seris VoIP PBX.
In this Article:
One-way Paging and Two-way Intercom
The following features are supported by Yeastar S-Series VoIP PBX:
Making an Intercom by Feature Code
If you would like to make an intercom with a specific extension user, you can dial the intercom feature code to achieve it. The default Intercom feature code is *5.
For example, making an announcement to extension 1000, you need to dial *51000, then the extension 1000 will be automatically picked up.
Setting Up Paging/Intercom Group
To realized group paging or intercom, to make announcements to a group of people at the same time, you need to set up Paging/Intercom groups on S-Series VoIP PBX.
Step 1 Go to Settings > PBX > Call Features > Paging/Intercom, click "Add" to create a new group.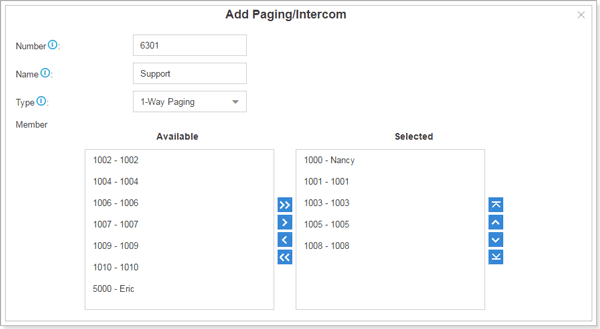 Number: set the group number, the local extension should dial this number to call the paging/intercom group.
Name: give the group a brief name to help you identify it.
Type: choose 1-way Paging or 2-Way Intercom.
Member: choose the group members. 
Step 2 Dial the intercom/group number 6301 to make an announcement to the group members.