Introduction
Yeastar VoIP Gateways provides PSTN, ISDN, cellular connectivity and analog phones connection for software-based business telephone system like 3CX Phone System for Windows. By installing Yeastar VoIP Gateways, businesses could preserve their existing PSTN lines and analog phones and enjoy the following benefits.
Your Choice of VoIP Gateways
Yeastar offers 4 to 32 ports FXS VoIP Gateway to leverage your existing analog phones and fax machine. In terms of trunking options, you could choose from 4 to 16 ports FXO VoIP Gateway, 1 and 2 ports E1/T1/PRI VoIP Gateway, 2 and 4 ports BRI VoIP Gateway, and 1 to 16 channels VoIP Cellular (GSM/CDMA/UMTS) Gateway.
Proven Interoperability and Easy Configuration
Integration of Yeastar VoIP Gateways and 3CX is smooth and proven. Both products support industry standard SIP protocol to ensure a seamless integration. The configuration process is easy and intuitive with step by step How-to Guides. If you are not sure about the integration, our technical support is just a phone call/an E-mail away.
Rich Application Scenarios
Besides connecting previously incompatible analog terminals, PSTN lines, and cellular networks with 3CX, Yeastar VoIP Gateways could also be used to connect remote offices with 3CX Phone System at the headquarter.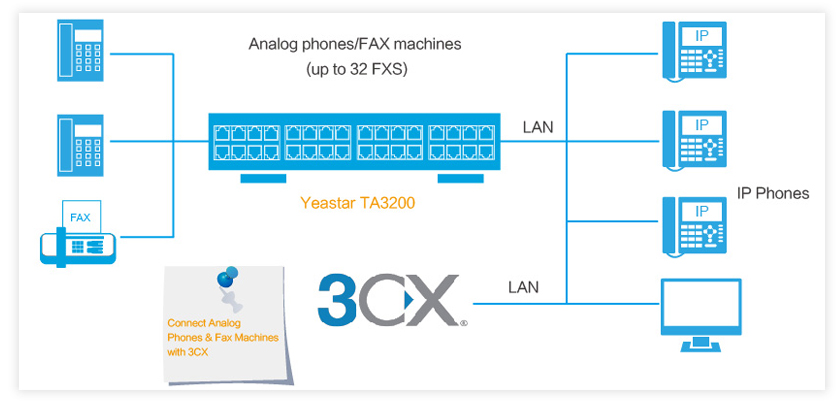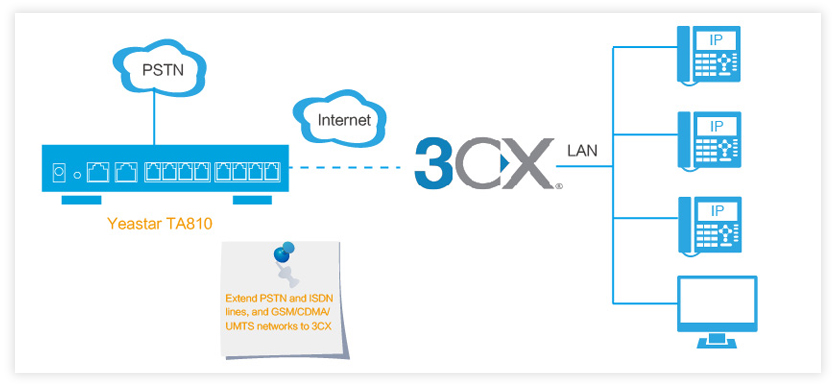 How to Connect Yeastar TA FXS Gateway to 3CX

, please refer the below link:
https://support.yeastar.com/hc/en-us/articles/217791218
How to Connect Yeastar TA FXO Gateway to 3CX

, please refer the below link:
https://support.yeastar.com/hc/en-us/articles/217756008
TB BRI VoIP Gateway & 3CX How-to Guide, please refer the below link:
https://support.yeastar.com/hc/en-us/articles/218384727
TE E1/T1/PRI Gateway & 3CX How-to Guide, please refer the below link:
http://www.yeastar.com/download/How_to_Connect_Yeastar_TE_PRI_VoIP_Gateway_to_3CX_en.pdf
TG VoIP GSM Gateway & 3CX How-to Guide, please refer the below link:
http://www.yeastar.com/download/How_to_Connect_Yeastar_TG_GSM_VoIP_Gateway_to_3CX_en.pdf