Introduction
Call Control is a CTI (Computer Telephony Integration) software for Mac with Asterisk. It allows you dial phone numbers from your desktop.
For MyPBX, it is based on Asterisk 1.6 which is compatible with Call Control. You can follow this guide to use Call Control with MyPBX and fulfill the goals:
Dialing from your Mac
Seeing who's calling
This document is based on the test with:
Call Control version: 2.5.6 
MyPBX Standard version: X.19.0.47
1. AMI Configuration on MyPBX
We will connect MyPBX and Call Control via AMI, please make sure AMI settings are configured correctly on MyPBX first.
Login in MyPBX Web User Interface, and go to System→Security Settings→AMI Settings to configure AMI.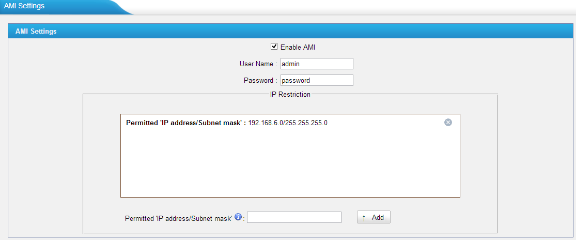 Figure   1
Enable AMI: Checked         //Enable API, the default API port is 5038.
User Name: admin        // Enter the user name according to your preference.
Password: password     //Enter the password according to your preference.
Permitted 'IP address/Subnet mask': 192.168.6.0/255.255.255.0
   // Only the input IP address range can connect MyPBX via AMI.
2. Configuring Call Control
1.Go to the menu Preferences in Call Control. And configure the tab General.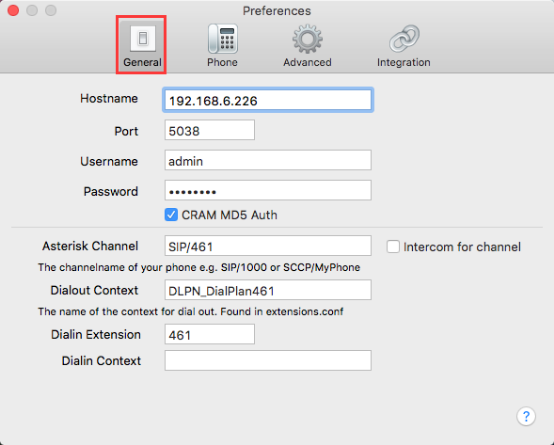 Figure   2
Fill in the following field like the figure above:
Hostname: 192.168.6.6.226       //the IP Address of MyPBX
Port: 5038                                  // the AMI port of MyPBX
Username: admin             //the username you set in the AMI settings of MyBPX.
CRAM MD5 Auth: checked.
Password: ••••••               // the password you set in the AMI settings of MyBPX.
Asterisk Channel: SIP/461  // fill in the channel with extension number. This extension is the one you want to use with Call Control.
Dialout Context: DLPN_DialPlan461          // for MyPBX, the context fromat is DLPN_DialPlanXXX, XXX is the extension number.
Dailin Extension: 461                               // fill in the extension number.
2. Go to the tab "Phone", and configure the "Caller ID" field.
The Caller ID is usually the extension number. Refer to the figure below.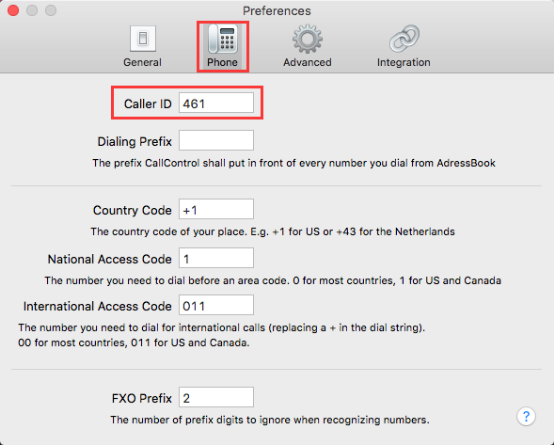 Figure   3
3. Connect the AMI, Go to the menu File and click Connect.

                                                       Figure   4
After that, it will show connected on the Call Control dial panel.

                                                 Figure   5

3. Making calls via Call Control
In this guide, we test with extension 461. We have registered 461 on an softphone. And configure the context of 461 on Call Control.
On the dial panel of Call Control, you can input the number you want to dial directly. Then click the "Dial" button to make the call.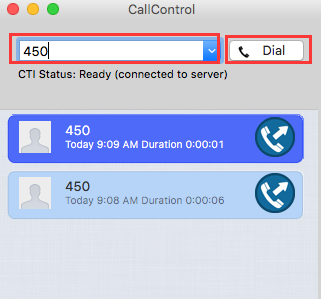 Figure   6
For example, after we dial 450 on Call Control. Immediately, the softphone will ring. If you answer it or pick it up, you will dial to 450.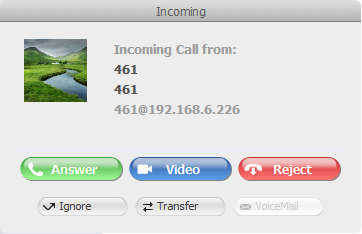 Figure   7
4. Seeing who's calling
Although you can't receive calls on Call Control, you can see who's calling. If the caller number matches your Address Book in your Mac, it will show the contact info on Call Control panel.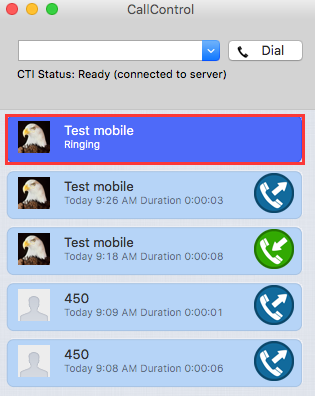 Figure   8