Description
IPC (IP Camera), an Internet Protocol Camera, it's a type of digital video camera commonly employed for surveillance, which is widely installed in company for defense and security. Some IP cameras have integrated SIP protocol inside the firmware, which is used to connect to a central PBX, here is guide of how to integrate Milesight IP camera to MyPBX.
Here are the devices used in this manual: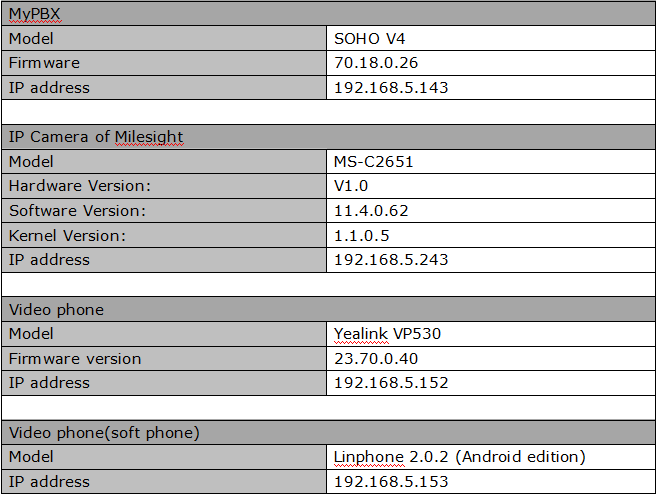 The extension number used:
Milesight IPC: 100
Yealink VP530: 101
Linphone: 102
Video Codec: H264 (Recommend)

Part 1. Configure MyPBX for extension number, video codec.
Login MyPBX's web interface, the default IP address is 192.168.5.150, you can open it using browser directly if it's a complete new device. In this example, the IP address is 192.168.5.143.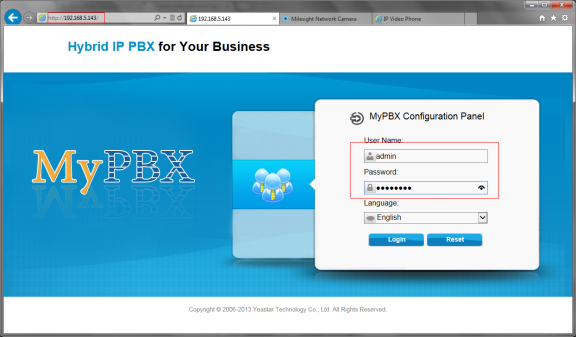 Figure 1
Check the extension's details like user name and password. The video call is supported by default, you can confirm it in 'PBXAdvanced settingsVideo Support'.
You can modify the 'Max Bit Rate' to 768kb/s or higher for smooth video stream. The default value is 384kb/s.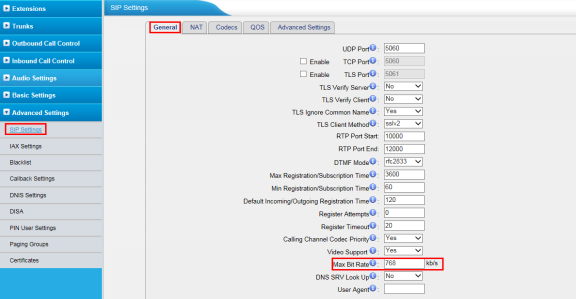 Figure 2
Check the codec, make sure H264 has been chosen to right side as the 'Allowed Codecs'. Save it and apply the changes on web.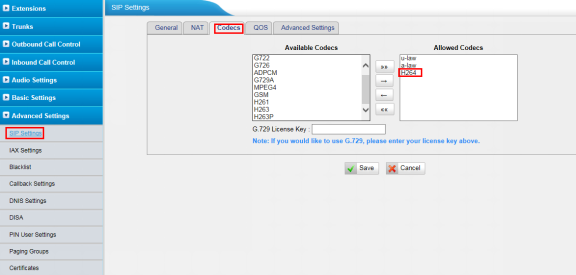 Figure 3
The configurations in MyPBX side are finished.
Part 2. Register Milesight IP camera to MyPBX.
Milesight is a professional high-tech enterprise specializing in the design and manufacture of best-in-class megapixel network cameras with superior image quality, exceptional flexibility and reliability for IP video surveillance. You can click this link to learn more: http://www.milesight.com/
In this example, the IP address is 192.168.5.243, input http://192.168.5.243:8080 to get the login page. The default IP is 192.168.5.190.
To login web interface, the default username is "admin", password is "ms1234"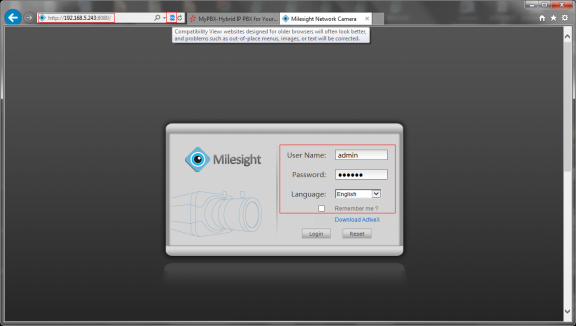 Figure 4
Note: If you are using IE10, please enable 'Compatibility mode' in browser.
When login, you will need to install the ActiveX control module from Milesight web.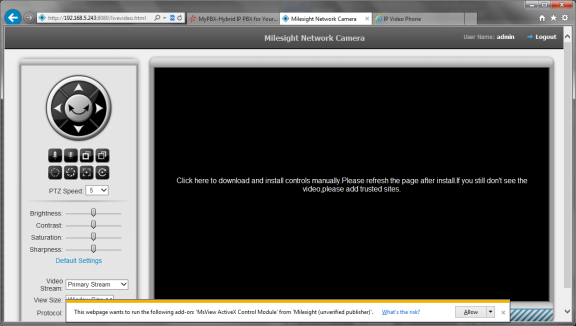 Figure 5
When installed well, you can get the full view.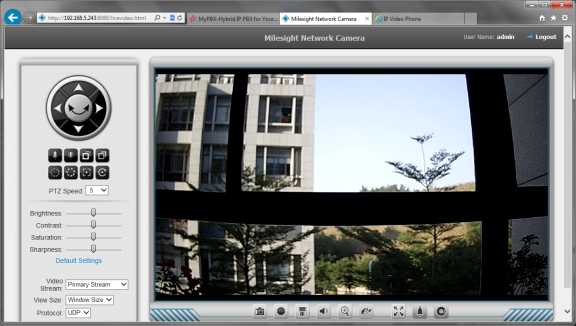 Figure 6
Click 'configuration' below the menu to start.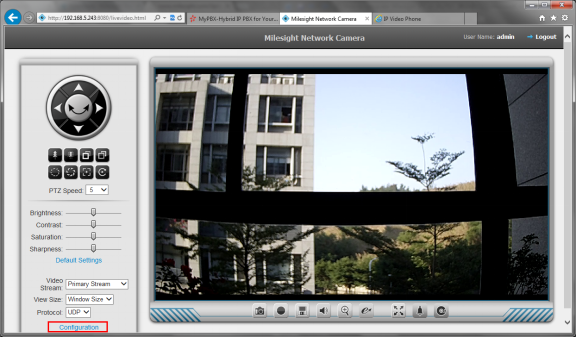 Figure 7
Click 'Video->Video codec, make sure H264' has been chosen.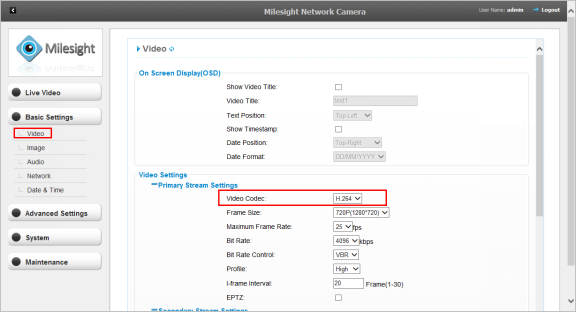 Figure 8
Click 'Advanced settings---SIP' to get the configuration page.
In this example,
MyPBX's IP address:192.168.5.143.
Extension number: 100
Password: pincode100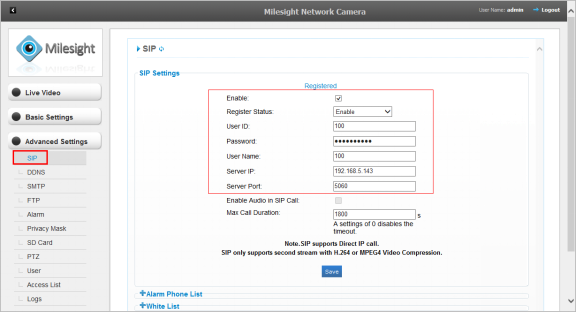 Figure 9
Click 'save' to save the configuration. Then check if it's registered in 'Status' page.

Part 3. Register Yealink VP530 to MyPBX.
Open your browser and input the IP address of Yealink VP530, in this example:
IP address is 192.168.5.152.
Default username: admin
Default password: admin
You can get this page when login.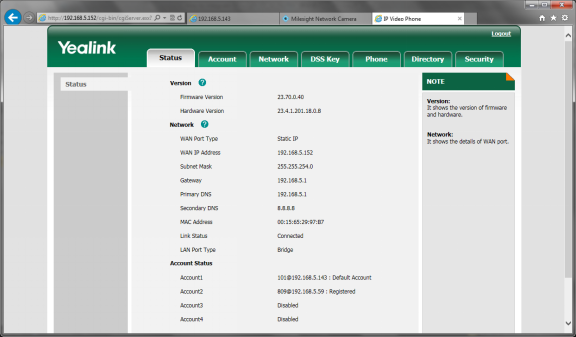 Figure 10

Click 'Account' input the registration details like the following picture shows.
In this example:
Extension number:101
Password: pincode101
MyPBX's IP: 192.168.5.143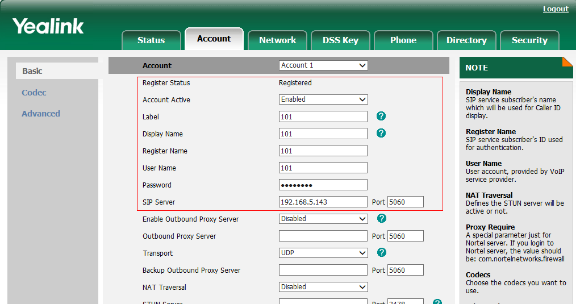 Figure 11
Click 'apply' to save to settings, you can see it's registered already. You can also check if H264 is enabled in 'Codec' page.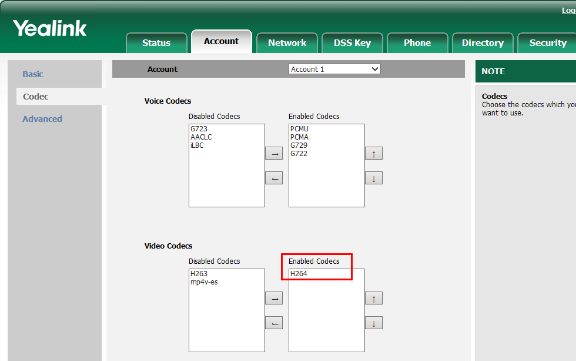 Figure 12
The configuraions in VP530 side are finished. 
Part 4. Register Linphone to MyPPBX
Linphone is an open source video SIP phone for desktop&desktop, you can install it in your smart phone (iPhone or Android), more details, you can click here:
http://www.linphone.org/eng/download/packages/
In this example, the version of Linphone is 2.0.2 (Android based).
Install it in your smart phone, and then open it to get the welcome page.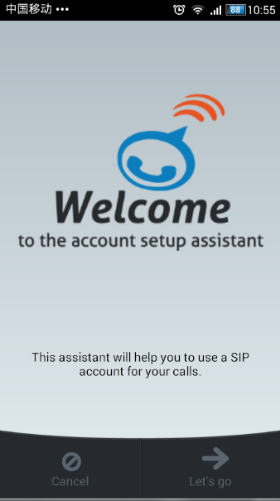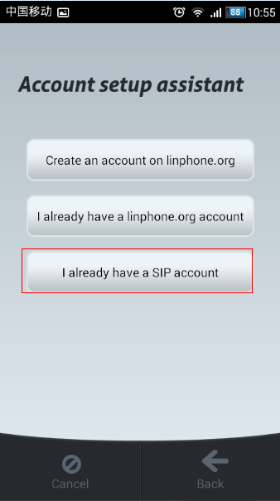 Figure 13
Click 'Let's go' and choose 'I already have a SIP account'.
There will be another window to setup the account, in this example:
Extension number: 102
Password: pincode102
MyPBX's IP: 192.168.5.143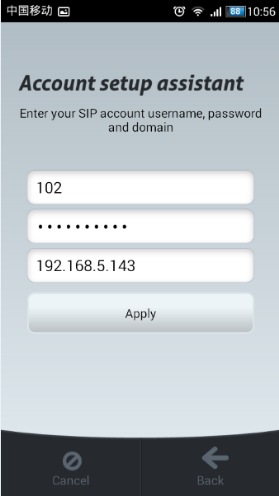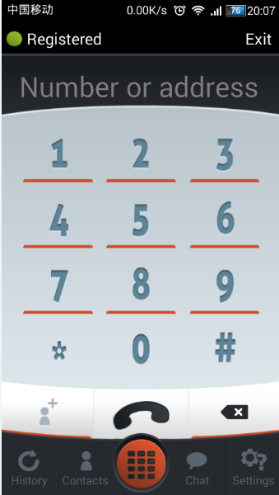 Figure 14
Clicl 'Apply' to take effect, extension 102 has been registered successfully.
Click 'settings' to change the video codec, VB8 is the default codec chosen in this program.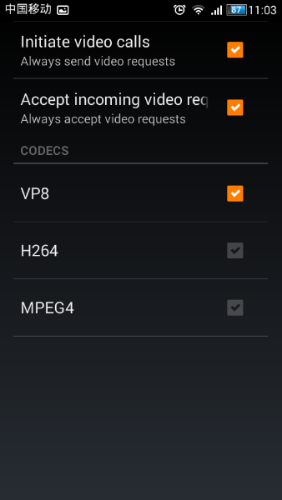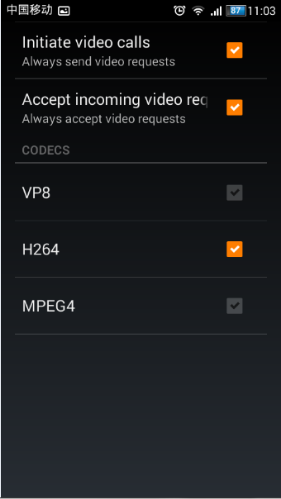 Figure 15
H264 should be ticked instead of VB8 in this example.
The configuration in Linphone side is finished.
Part 5 Dial video calls to IP camera to test.
1. Dial the extension number 100 from Yealink VP530.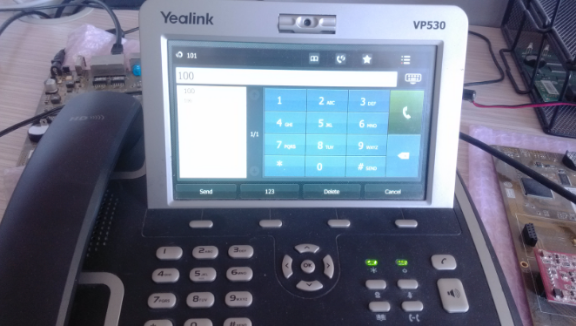 Figure 16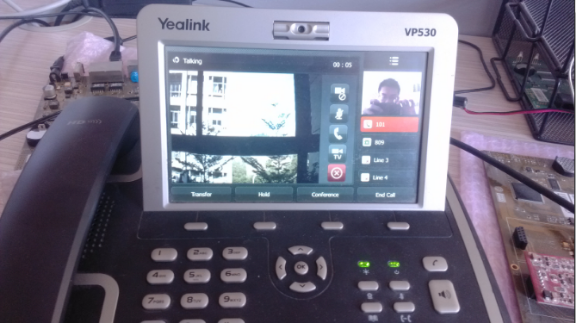 Figure 17
2. Dial the extension number 100 using Linphone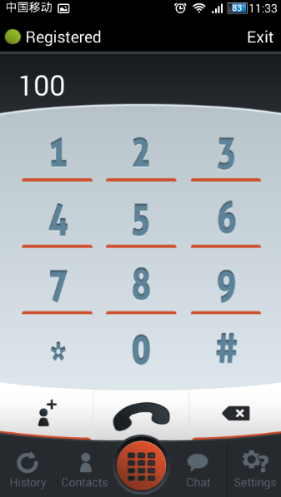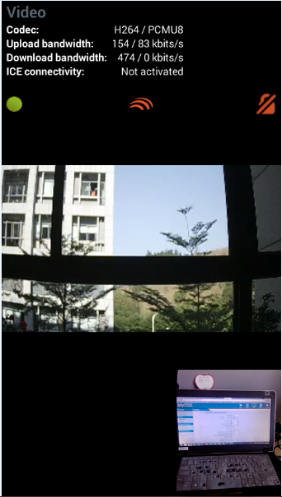 Figure 18