First, click 'PBX--system prompts' to get in the page.

1. Update via http/auto mode (recommend)
We can choose the wanted prompts and click download to update directly without reboot





Note: please configure LAN settings of MyPBX well so that it can download the prompt from our website, you can also access via SSH and ping www.yeastar.com to confirm it.

If you know the URL of our prompt, you can choose HTTP mode:
| | | | |
| --- | --- | --- | --- |
| Prompts | URL | Language | Remarks |
| Da.tar.gz | | Danish |   |
| de.tar.gz | | German |   |
| en.tar.gz | | English |   |
| En_Au.tar.gz | | English | Australian |
| en_BR.tar.gz | | English | British |
| es.tar.gz | | Spanish |   |
| es_LT.tar.gz | | Spanish | Latin |
| es_MX.tar.gz | | Spanish | Mexico |
| Fr.tar.gz | | French |   |
| Fr_CA.tar.gz | | French | Canada |
| It.tar.gz | | Italian |   |
| Hu.tar.gz | | Hungarian |   |
| nl.tar.gz | | Dutch |   |
| no.tar.gz | | Norwegian |   |
| Pl.tar.gz | | Polish |   |
| Pt.tar.gz | | Portuguese |   |
| Pt_BR.tar.gz | | Portuguese | Brazil |
| Ru.tar.gz | | Russian |   |
| fi.tar.gz | | Finnish |   |
| se.tar.gz | | Swedish |   |
| Tr.tar.gz | | Turkish |   |
| ar.tar.gz | | Arabic |   |
| Gr.tar.gz | | Greek |   |
| Fa.tar.gz | | Farsi | Persian |
| Th.tar.gz | | Thai |   |
| Kr.ar.gz | | Korean |   |
| Zh.tar.gz | | Chinese |   |
For example, the address of English prompt is
http://www.yeastar.com/download/VoicePrompts/en.tar.gz



2. Update via TFTP
If it's not reachable to visit our website to download the prompt, you can choose tftp method. Please download the prompt package from

Step 1: Download the prompt file. (e.g. en.tar.gz)
Download link: http://www.yeastar.com/download/VoicePrompts/en.tar.gz

Step 2: Create tftp Server(For example, tftpd on Windows)
1)Install tftpd32 software on computer
   Download link:http://tftpd32.jounin.net/tftpd32_download.html
2)Configure tftpd32
    On option 'Current Directory', click 'Browse' button, choose the firmware file of  MyPBX upgraded patch, such as D:\en.tar.gz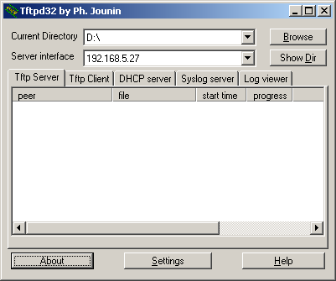 Step 3: update via tftp
1)TFTP Server:Fill in IP address of tftpd32 server, such as 192.168.5.27
2)File Name:Enter the name of firmware update, such as en.tar.gz
3)Click 'Download' to upgrade