Introduction 
Yeastar S-Series PBX provides automatic upgrade. The new firmware could be detected via cloud server. In addition, it provides manual upgrade that it supports web uploading upgrade, HTTP upgrade, and TFTP upgrade.
How to Upgrade 
Before upgrade we suggest you make a backup
Go to the menu Maintenance > Upgrade.
1. Automatic Upgrade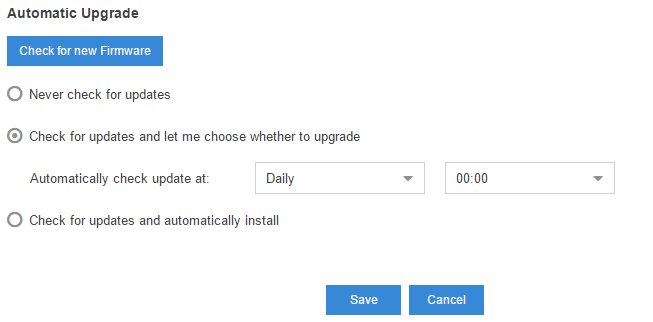 Never Check Updates: never check updates from the cloud server.
Check for Updates and let me choose whether to update: set when to do check the updates automatically from the cloud server. 
Check for updates and automatically install: automatically downloads and installs firmware updates without even asking. 
Note:
If "Reset configuration to Factory Defaults" is enabled, the system will reset to factory default settings.

When update the firmware, please don't turn off the power. Or the system will get damaged.

If you are trying to upgrade through auto upgrade or HTTP, please make sure that the system is able to visit the Internet, or it cannot access Yeastar website to get the firmware file, causing the upgrade fail. 
2. Upgrade through local file.
For manual upgrade, you can first download the version via Yeastar website: http://www.yeastar.com/firmware-download/

1) Choose Type "Browsing File".
2) Click , select the firmware file from your computer. Note that the file should be a BIN file.
3) Click to start uploading.
3. Upgrade through HTTP
1) Choose "Download From HTTP Server". 
2) Enter the HTTP URL. Note: the HTTP URL should be a BIN file download link.
3) Click to start downloading the file from Yeastar HTTP server.

4. Upgrade through TFTP 
1) Download firmware file from Yeastar website to your computer.
2) Create a TFTP server. Here we take Tftpd32 as example.
3) Configure TFTP server. Click "Browse" button to select the firmware file path. And "Server interfaces" should be the one that shows the IP of your computer.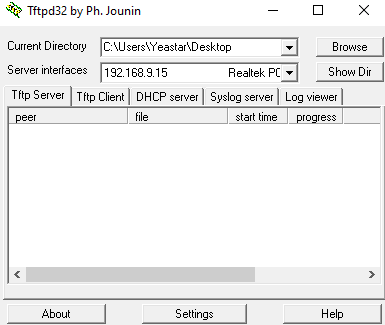 4) Go to upgrade page, choose "Download From TFTP Server".
5) Fill in the TFTP Server IP field, the IP should be the local PC IP address.
6) Fill the name of firmware file. It should be a BIN file name.
7) Click "Download" to download the file and perform the upgrade.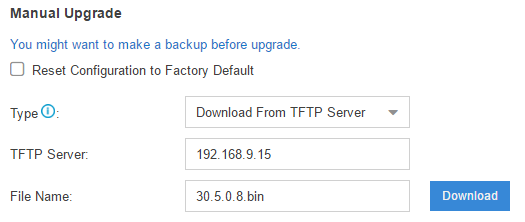 Note:  If TFTP upgrade still shows failed, please turn off security settings on your computer like firewall, virus defender and then try again.