General
Yeastar Technical Support is offered for our valuable partners, including Distributor and Reseller. As for End-user, Yeastar recommends that they obtain support via Yeastar partner where you purchase the device, if you are not able to find partner, you can click here to submit a ticket for evaluation and arrangement. Yeastar Technical Support is FREE for our Certified Partners.
Yeastar also launches the paid service for Feature Customization, Dedicated Holiday Support, On-site Technical Support, And Video Conferencing.
Support method
Self Service
Submit a Ticket
Click here to deliver ticket with the full information for help.
Send Email
You can send email to helpdesk@yeastar.com, which will display in Ticket system as well.
Make phone call
Please call our number if need help urgently, we offer English call service for international requests.
US number:     +1 (972) 914-4899  
China Number:  +86(592) 550-3309
Online chat
Click here you will find chat window to start chat with us. Online chat service is offered for Yeastar Partners only. Partners can login Yeastar Partner Portal to chat with us as well.
Remote Sessions
Remote Sessions will be offered by the case managing agent on his/her own discretion and cannot be requested. For remote sessions, Teamviewer12 is recommended to be used.
Download Yeastar brand Teamviewer version for Windows here and MAC OSX here.
Yeastar will not support the basic remote installation.
SLAs
Yeastar's SLA is set to 24 hours after ticket creation is handled within office hours and excludes weekend and holidays.
Yeastar Support Hours
Yeastar China office: 08:45 AM - 22:00 PM (GMT+8), Monday to Friday,
Yeastar US office:  9:00 AM - 17:00 PM (CST),   Monday to Friday
If the time doesn't match you time, please arrange it with case managing agent in advance.
Here is the whole diagram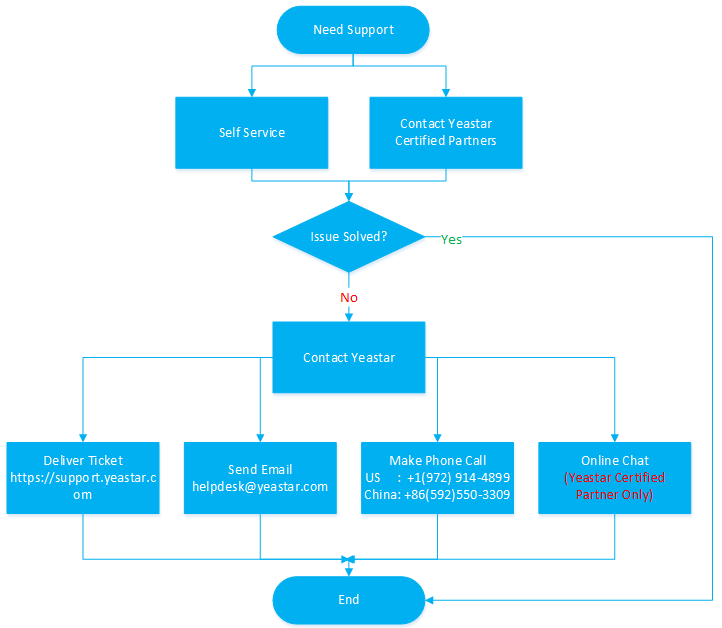 Yeastar Paid Support
Free Support is never one-size-fits-all. In addition to the regular free support service we provide,
Yeastar also offers Paid Support services that fit your special needs. Yeastar Support team can help with Feature Customization, Dedicated Holiday Support, On-site Technical Support, And Video Conferencing. If you need it, click here to apply for it. 
FAQ:
1. Why Yeastar recommends that End User contact Yeastar Partners for support?
Yeastar recommends that End Users are supported by our local Partners (Distributor and Reseller). From End Users' side, local support is always much more convenient. Yeastar will arrange technical training and certification for Partners to make sure our Partners are equipped with the knowledge for supporting End Users.
2. How can I find a Yeastar Partner to obtain support?
Yeastar didn't publish the whole list of partner currently; you can obtain support from where you purchased our device. If you still cannot find a suitable partner to support you, you can submit a ticket in https://support.yeastar.com.