Applicability
Problem Description
TA2410 setup Peer-type SIP trunk to integrate with Mitel-3300. The inbound calls are working, but outbound calls not. Calls hangup as soon as call out.
Analysis
The PCAP logs shows that TA2410 replied the 420 Bad Extension (unsupported) to finish this call.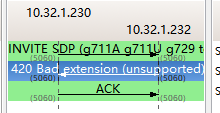 The Unsupported header shows that TA2410 does not support the 100rel.

Solution
Change the Reliable Provisioning to "No' in the Mitel PBX. After that, the outbound calls work fine.