Introduction
Yeastar offers a variety of technical training services for our channel partners. These trainings are offered in flexible formats; both online and traditional classroom courses are available. Our partners could choose self-paced online training or instructor-led classroom training as they prefer. Classroom training at Yeastar or our partner's site are both offered.

Yeastar Technical Training & Certification
Designed by our expert trainers, Yeastar technical training covers everything you need to know about using, managing, maintaining and developing Yeastar products and get the most out of them.
Available Courses
We have Basic level, intermediate level and advanced level courses demonstrated as the figure below.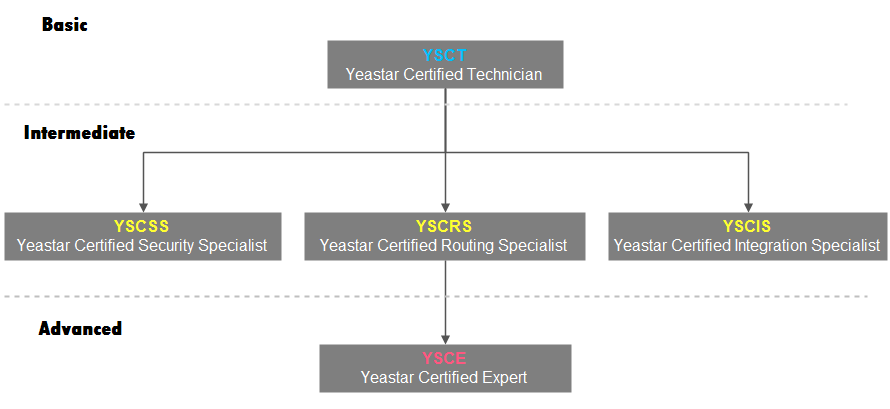 YSCT   - Yeastar Certified Technician (View Outline )
YSCSS - Yeastar Certified Security Specialist (View Outline)
YSCRS - Yeastar Certified Routing Specialist (View Outline)
YSCIS - Yeastar Certified Integration Specialist (View Outline)
YSCE   - Yeastar Certified Expert (View Outline)
A certificate will be issued to the training participants who have completed the training courses and pass the exam.
By passing the exam, the participant will get access to the courses of next level. For the 3 courses of intermediate level, the participant can take either one of them, if pass the exam, participant can begin to learn the advanced level, the participant can also take all 3 of them by choice.
Note: All the certificates are valid for 3 years. Certificate-holder can renew it by retaking the exam.
R

equirements
It is ideal that each attendee bring their own laptops and install the following required software.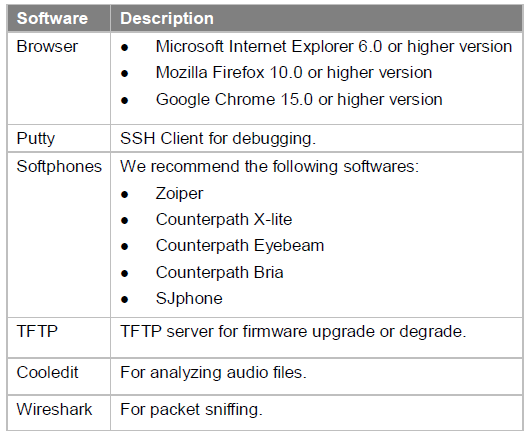 Yeastar On-site Training
If you require an on-site training at your location or would like to hold a training by yourself as a Yeastar authorized training partner, please check the below requirements and contact your sales representatives at Yeastar.
On-site Training Application
Send the on-site training application form to your sales representative at Yeastar.

The sales representative would report your request to the Marketing and FAE departments.

Marketing and FAE departments would check your request and report it to General Manager.

General Manager makes final decision

Marketing and FAE departments notifies sales of the result.

Sales notifies you the result

If application has been approved, please send a brief on-site training report to the marketing team after the training.
Note: all of expenses covering Yeastar trainers' visit in your country including air tickets, accommodation, and health insurance will be borne by your company.
On-site Training Instruction
Training Venue Preparation
A projector to which the trainer's laptop can be connected.

A whiteboard with whiteboard markers in at least two colours and a whiteboard eraser

A wired microphone (for larger room, or a large group)

Have access to the Internet or Internet network

Decorated with Yeastar portable display/exhibition board

sufficient power-boards

Refreshments, drinks or meals provided (optional)

Contact information list of all attendees for trainer
Training Materials Preparation
A set of Demo products for trainers

Sufficient Yeastar products and IP phones for training participants' hands-on practice.

Taking S-Series PBX as an example, prepare at least one S-Series PBX, one IP phone and one analog phone for each 2-4 attendees.

Several switches and USB storage device if needed

Yeastar Trainee Kit

The quantity of trainee kit may according to the number of attendees or your marketing plan.

A Yeastar Trainee Kit may contain a Yeastar bag, a Yeastar Polo shirt, a Yeastar Pen, a Yeastar notebook, a sample product (optional)
Note: Yealink, Cisco, Polycom, Snom, Grandstream, Fanvil, Hteck are suggested IP phone brand. If you'd like use other brands, please confirm with Yeastar first.
Requirements to Become a Yeastar Authorized Training Partner
Have motivation and resources to provide the training courses

Obtain both Basic (YSCT) and intermediate(YSCSS, YSCRS, YSCIS) level of certificates, score at least 80%
Pass Yeastar Certified Expert(YSCE) course and other training courses for trainers organized by Yeastar.