Distinctive Ringtone distinguishes calls from different inbound routes. In order to use this feature, the IP phone must also support distinctive ringtone. Let's try set up a distinctive ring tone for one inbound route.

Step 1. Enter the Web GUI of the IP phone. Here we take Yealink T28 for example.

Step 2. Click "Phone" and "Ring". Name the first Internal Ringer Text, in the Internal Ringer File, choose a ringtone you wish to use. In this way, distinctive ringtone is enabled on IP phone.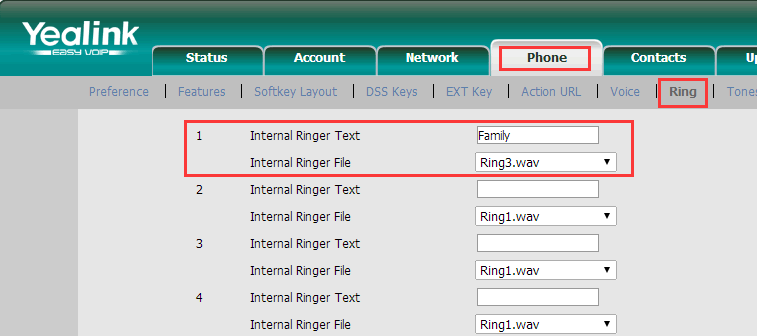 Step 3. Log in MyPBX Web interface, enter the inbound route edit page. In the field of Distinctive Ringtone, fill in the name of the Internal Ringer Text we just named. Make a call to MyPBX through the configured inbound route, the ringtone is just the one we have chosen.