Intercom and Paging Group are two of key Yeastar MyPBX features for users to make a one-to-one or one-to-many announcement. In this guide, you will learn how these two features function and how to use them on Yeastar MyPBX U Series.
Feature Introduction: 
Intercom
Intercom is a feature that allows you to make a paging announcement to one extension via a phone speaker. The called party does not need to pick up the handset. It can be achieved by pressing the feature code on your phone and it is a two-way audio call (two way phone intercom).
Paging
Paging is used to make an announcement over the speakerphone to a phone or group of phones. Targeted phone(s) will not ring, but instead answer immediately into speakerphone mode. This feature is typically one way for announcements only, but you can set the paging group as a duplex mode to allow all users in the group to talk and be heard by all.
How to Use Intercom Function on MyPBX
The default Intercom feature code is *5. To make an announcement to a specific extension, you need to dial *5+ extension number on your phone. For example, make an announcement to extension 500, you need to dial *5500, then the extension 500 will be automatically picked up.
How to Use Paging Group Function on MyPBX
This feature is supported by the following SIP phones: 
Yealink T28, T26, T22, T20, T10T, T9CM. Other SIP devices may also work with this feature but are not officially supported.
There are two types of paging group in MyPBX, Internal type and External type, which can be used to create a simple office paging system.
1. Internal Type

Click PBX--Advanced Settings--Paging Group to create one group. 
The selected group of extensions will be picked up automatically when someone dials the group number.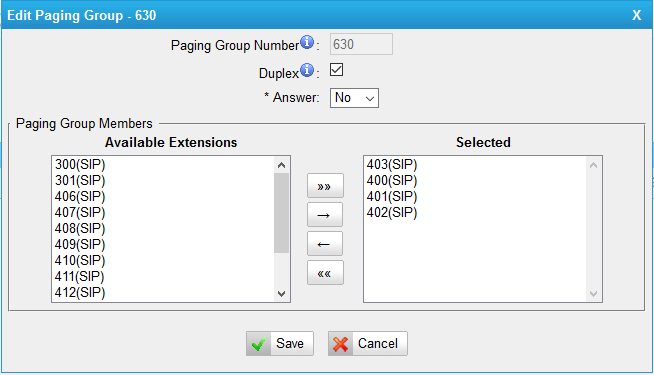 Paging Group Number
Define the numbered extension that may be dialed to reach this group.
Duplex
Paging is typically one way for announcements only. Checking this will make the feature duplex, allowing all users in the group to talk and be heard by all.
*Answer
If it sets Yes, any user in the group will talk with the caller when they press "*". If it sets No, users in the group can talk with each other without pressing "*".
2. External type
It's a new paging group type used for broadcasting via Audio Out interface. The default number is 630, the selected extension can dial paging number 630 to play his voice via Audio out interface.
Note: External Paging Group is only supported on MyPBX U100, U200, and U300.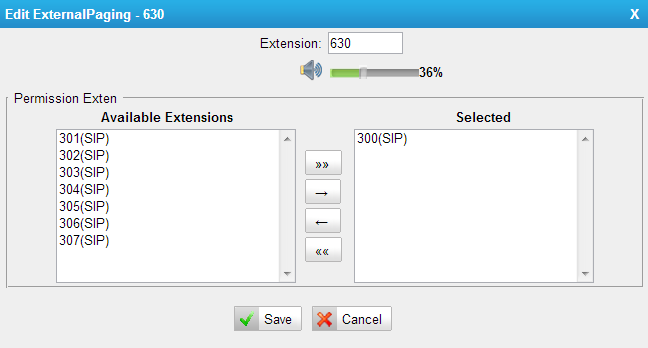 In the above figure, the selected extension 300 can dial 630 to make an announcement through MyPBX Audio Out.

Connect a loadspeaker to Audio out port

so that your voice can be played.