Please follow the following steps to record the signal, which will help to analyze the details of some problems, like caller ID or busy tone.
Step 1 Login MyPBX CLI via ssh;(enable ssh on web first, the username: root; password: ys123456)
Step 2 Execute command  vi /etc/dahdi/ysport.conf to check physical ports on MyPBX.
For example, it shows like this:

Figure 1
Means port 6 is FXO port, channel number 10.
Step 3 Go to directory /persistent/ (cd /persistent).
Please DO NOT skip this step, you need to record the files in persistent folder.
Step 4 Execute command dahdi_monitor n –r rx.raw –t tx.raw, n is channel number.
for example, if you want to monitor channel 1's caller id signaling, command is dahdi_monitor 1 –r rx.raw –t tx.raw ;
Step 5 
Caller ID problem: Call in to the PSTN line, wait for 5 seconds, hang up the call, call in to the same PSTN line again, wait for 5 seconds, then type Ctrl + c to stop the command;
Busy tone problem: Call in to the PSTN line and pick up the call, speak for some seconds then hang up the call. It's better to repeat the above operation, then type Ctrl + c to stop the command;
Step 6 Login via ftp and get the file /persistent/rx.raw, tx.raw
user name: root, password: ys123456
Step 7 Use Cool Edit Pro to check the caller id signal waveform;
Open the rx.raw file as
Sample Rate 8000
Channels Mono
Resolution 16-bit
Formatted the rx.raw file as 16-bit Intel PCM (LSB, MSB)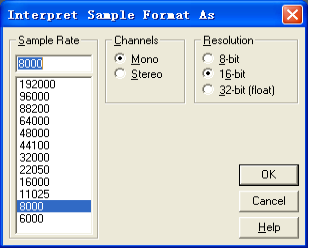 Figure 2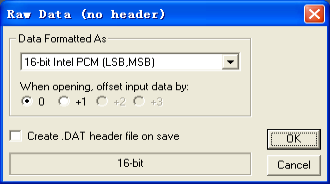 Figure 3
For checking the Caller ID
Examples of Caller ID signal waveform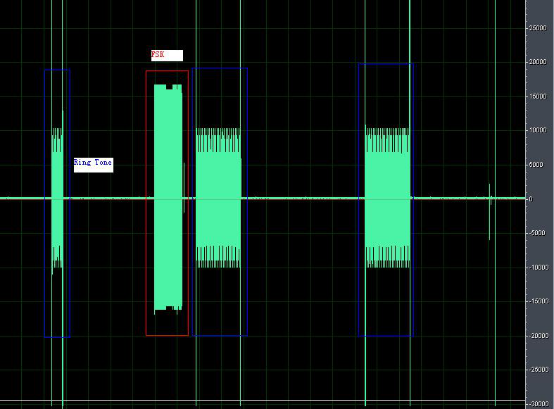 Figure 4 FSK after first ring
(Caller id signaling: US Bell FSK Caller ID start: Ring )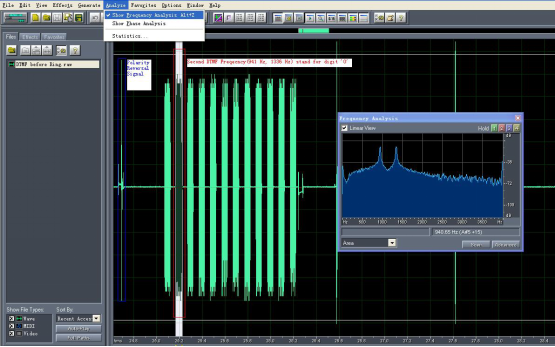 Figure 5 DTMF before Ring
(Caller ID signaling: DTMF, Caller ID start: Before RING)