Conference room is a basic feature supported in all MyPBX models. When we want to use this feature, we can dial the conference number using extension directly, or dial into the trunk whose destination is this conference room.
There is an administrator in a conference, which can be configured when edit/create this.
We can also set the PIN in conference then any one need to input this PIN to access except the administrator.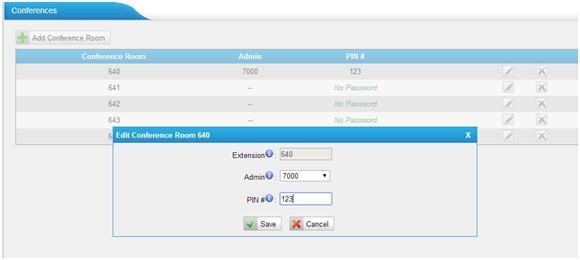 When the agents in conference room, the agents can dial * to access advanced options, here are the details:
Agents can press * to get the number of conference members of this conference and access the advanced options
press 0 to eject extension       (owned by administrator only)
press 1 to mute/ un-mute yourself
press 2. lock conference         (owned by administrator only)
press 3, eject last user       (owned by administrator only)
press 4. Decrease conference volume
press 6. Increase conference volume
press 7. Decrease your volume
press 9. Increase your volume
press 8. exit
Note:
The key 0,2,3 is supported for admin extension only.
Admin extension can access the conference room without PIN.