Scenarios
In some call centers, to provide better service quality, the supervisor would like to play a specific prompt for the new incoming calls if all agents are busy in a call, and after the prompt, the incoming call can choose to leave the queue or remain waiting in this queue.
Applicable Models
Yeastar P-Series IPPBX
Solutions
1. Follow up on this guide to customize the backend file to define the conditions for leavewhenempty parameter.
https://support.yeastar.com/hc/en-us/articles/7944544067865
2. Create another queue with the same agents as queue 6400. For example, queue 6401.

3. Enable the Leave Empty option on Queue 6400.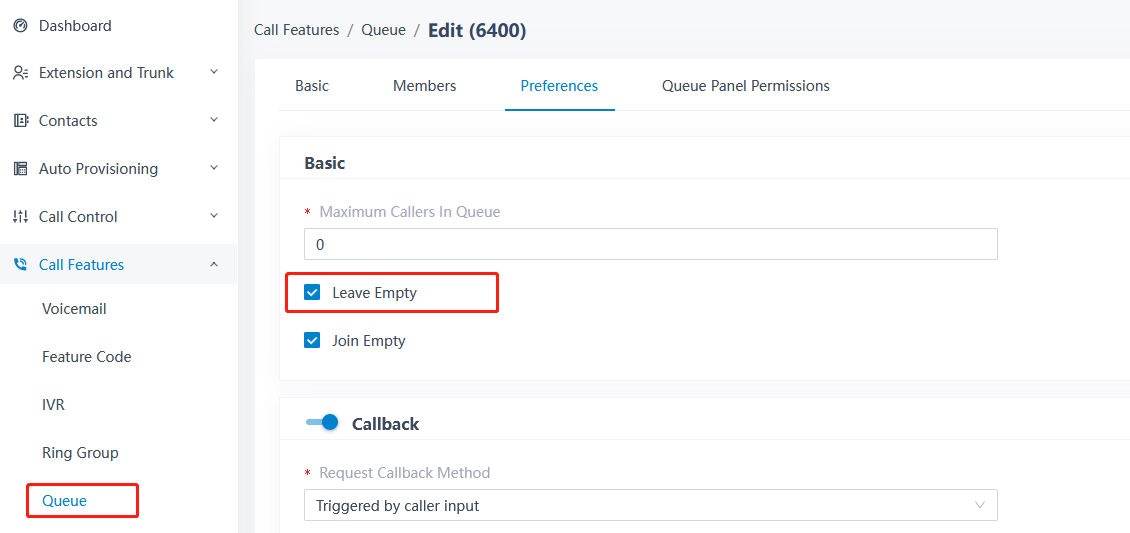 4. Configure the Failover destination to queue 6401 for queue 6400.

5. On queue 6401 Music On Hold, select the specific prompt that needs to play for the new incoming calls.

In this way, when all the agents in queue 6400 are busy, when a new incoming call arrives in queue 6400, they can hear the customized prompt voice and continue to wait in the queue.